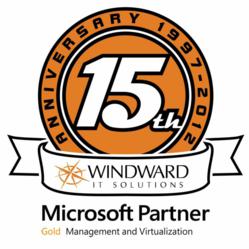 A Gold Management and Virtualization Competency differentiates us from the competition and establishes Windward as a market leader
(PRWEB) April 02, 2013
Windward IT Solutions, the pioneer in Service-Centric IT solutions, announced that they have once again achieved a Gold Management and Virtualization Competency in the Microsoft Partner Network. Having previously held a Gold Competency in Systems Management, Windward is further demonstrating their ability to meet Microsoft customers' evolving needs in today's dynamic business environment by delivering solutions based on Microsoft Hyper-V technology and Microsoft System Center, helping drive the evolution to Private Cloud. To earn a Microsoft Gold Competency, organizations must complete a rigorous set of tests to prove their level of technology expertise, have the right number of Microsoft Certified Professionals, submit customer references and demonstrate their commitment to customer satisfaction by participating in an annual survey. This distinction places Windward in the top 5% of partners worldwide that have attained this outstanding degree of proficiency.
Windward provides a full life cycle of Operations Management, with the IT Operational knowledge and extensive Service Desk experience necessary to tie together the System Center Suite of products. Windward has completed over 100 Proof of Concepts around orchestration in 2012, leveraging Hyper-V to enable their clients with a cost-effective and flexible Cloud infrastructure. Windward will continue to bring extensive experience in heterogeneous environments and tools that help deliver flexible and reliable solutions, while optimizing existing IT investments. Process Automation is the key to meeting these objectives. For the past 5 years Windward has been focused on building Automation solutions around IT tasks such as: Patching, User & Service Provisioning, Capacity Management, Provisioning/Decommissioning, Software Configuration, and Infrastructure Management.
"A Gold Management and Virtualization Competency differentiates us from the competition and establishes Windward as a market leader, further demonstrating our commitment to serving the needs of customers relying on Microsoft-based solutions. This competency just strengthens our ability to deliver Cloud solutions and expand our role as trusted advisor. System Center technologies address top IT priorities through cost savings and the ability to deliver data center and desktop solutions to help our customers make the most of their IT investments," said Sean McDermott, Founder and CEO of Windward IT Solutions. "We look forward to helping our customers by continuing to focus our areas of technology expertise in response to today's business needs and leveraging this technology to help our customers increase productivity and improve end-­user satisfaction."
The Microsoft Gold Competency signifies to the market that a company has demonstrated the highest level of skill and achievement within a given technology specialization. All 25 Microsoft competencies are designed to help differentiate a partner's specific technology capabilities, helping customers find solution providers quickly and easily. Each competency has a unique set of requirements and benefits, formulated to accurately represent the specific skills and services that partners bring to the industry to include the ability to deploy, support and optimize IT infrastructures, target specific technologies with a fundamental knowledge of hardware and IT infrastructure software and distinguish themselves by demonstrating in­‐depth knowledge and expertise.
The Microsoft Partner Network is designed to equip organizations that deliver products and services based on the Microsoft platform with the training, resources and support they need to provide their customers a superior experience and outcomes.
ABOUT WINDWARD IT SOLUTIONS
Founded in 1997, Windward IT Solutions is at the forefront of Service-Centric IT. With strategic consulting, unparalleled technical expertise, and our proven Windward Service-Centric IT Roadmap, we help our clients align the core competencies of process, organization, information, and technology to effectively address business and mission priorities. Windward offers a proven set of technology-independent solutions focused on the three core disciplines of Service-Centric IT – Service Management, Infrastructure Management, and Operations Management – to help our clients plan and deliver high-impact IT services. Windward is headquartered in Herndon, VA. More information on the company can be found online at: http://www.windwardits.com.