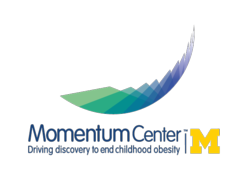 Our appreciation is amplified by the importance of Momentum's mission and the passion their staff has for making a major contribution to the movement to end childhood obesity
Ann Arbor, Michigan (PRWEB) April 02, 2013
Hile Design LLC has been hired by the School of Public Health at the University of Michigan (UM) to develop a website and brand identity for the newly formed Momentum Center (Momentum).
Hile Design was previously engaged by the UM School of Public Health to assist with the development of Momentum's name, and tagline: "Driving Discovery to End Childhood Obesity."
Momentum will be a catalyst for discovery and the reversal of trends related to childhood obesity. By pursuing innovative research involving unique collaborative relationships from multiple disciplines across the entire University, the center will link basic sciences to population-based research. Momentum will also accelerate the research of social, physical and chemical environments as they relate to childhood obesity.
"We've greatly enjoyed our engagement with UM's Momentum Center, and we look forward to creating a website for them that reflects their extremely ambitious and innovative brand," said Dave Hile, President of Hile Design, "It's always gratifying to help an organization develop a 'brand new' brand and our appreciation at being the creative agency selected to assist them is amplified by the importance of Momentum's mission and the passion their staff has for making a major contribution to the movement to end childhood obesity."
Hile Design is an Ann Arbor brand development and advertising firm that has been supporting businesses of all sizes for nearly 30 years with a full range of integrated creative services. To learn more, visit http://www.hiledesign.com.