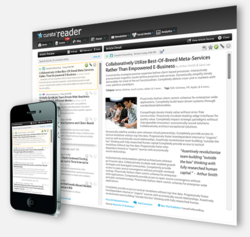 Cambridge, MA (PRWEB) April 02, 2013
Curata, Inc., a leading content curation platform, today announced that they are developing a Google Reader replacement that is specifically designed for business users, following Google's March 13th announcement of their intentions to discontinue Google Reader. The company plans to utilize existing intelligent content processing technology from their flagship content curation product for the upcoming product. The company is currently accepting invitations in anticipation of the public launch of Curata Reader.
"Our customer base has collectively curated and consumed millions of pieces of content over the past few years." said Pawan Deshpande, CEO and Founder of Curata. "Over the past five years, we have developed an in-depth understanding of the the needs of both businesses and consumers with respect to content."
Over the past eight years, Google Reader's popularity led it to become the predominant feed reader, stifling both competition and innovation. During that time period, Google invested little into their feed reader product and attempted to discontinue it several times in the past. Curata plans to significantly improve the user experience compared to Google Reader by not only emulating Google Reader in many areas, but surpassing it by surfacing only the most relevant content using machine learning technology.
"After Google announced that they are killing Google Reader, we realized that we were perfectly positioned to develop a compelling alternative." continued Deshpande. "On the technology side, we have also engineered an advanced content processing pipeline that can be quickly re-purposed as an intelligent feed reader."
Deshpande, who previously worked on Google's machine transliteration technology and studied natural language processing at MIT, has revealed little about the forthcoming product at this time. While Curata Reader will be of use to everyday individuals, it will be particularly suitable for users whose jobs depend on it, such as marketing and communication groups, competitive intelligence teams, and information service professionals.
The launch of Curata Reader is planned for early May. Though the product is still under development, the company is accepting only 10,000 sign-ups for early access.
Curata provides easy-to-use marketing solutions for content curation and content marketing. Curata's flagship product enables marketers to quickly find, organize and share content on specific issues or topics in order to establish thought leadership, own industry conversations and drive qualified web traffic. Curata was founded in 2007 and is headquartered in Cambridge, Mass. Learn more at http://www.curata.com