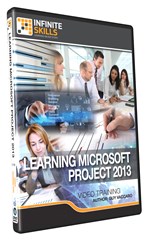 Learn Microsoft Project At Your Own Speed
(PRWEB) April 04, 2013
All projects include certain phases, from defining the scope and planning, to scheduling, executing and monitoring. Microsoft Project helps managers calculate their baseline expectations of cost and time expenditures and then monitor progress as the project proceeds to completion.
InfiniteSkills' Learning Microsoft Project 2013 offers a comprehensive guide for managers who wanting to integrate the program into their project management process, explaining all the key elements of the program to help maintain project efficiency.
Learning Microsoft Project 2013 Tutorial Video - DVD
Course author Guy Vaccaro has more than 15 years' training experience with Project and the entire Microsoft Office Suite. Training in classroom environments, manual writing, and in computer-based formats, Vaccaro is an accomplished teacher, with friendly and savvy teaching style, perfect for teaching students hidden tricks and tips as they learn fundamental concepts.
"What you're able to do with Microsoft Project 2013," Vaccaro explains, "is to keep an eye on the baseline and effectively measure yourself against that point."
After a brief overview reviewing the elements of a project and the Microsoft Project 2013 interface, Vaccaro guides users through the development of a basic project, using the example of upgrading a bedroom. He explains how to set up a project file, choose a template and configure the project properties.
Vaccaro then covers the core processes of project management with Microsoft Project, explaining how to work with and organize project tasks, key features of the project file, accounting for resources, creating a calendar, and managing the timeline.
Other chapters explain how to use the timeline to track and report progress, create a master report, and schedule recurring tasks, work with task automation, and much more.
Free demo videos and a full list of course contents can be found on the Learning Microsoft Project 2013 training page of the InfiniteSkills website:
http://www.infiniteskills.com/training/learning-microsoft-project-2013.html
InfiniteSkills offers its Learning Microsoft Project 2013 Training Video either as a DVD or a direct download from the company website at a retail price of $99.95. Though particular programs may vary in their compatibility with user systems, all InfiniteSkills titles and formats are compatible with both Mac and Windows. Shipping is available around the globe. Additionally, InfiniteSkills tutorials are supported by project files which correspond to examples in the videos, allowing users to work alongside experienced instructors right on their computer or iPad.
About InfiniteSkills Inc.
A leader in the field of software training, InfiniteSkills strives to offer the highest quality training available at an affordable cost. InfiniteSkills tutorials are task-oriented instructional videos, teaching complex skills by providing hands-on examples and guiding users as they carry out critical objectives. InfiniteSkills offers a comprehensive range of software titles available as DVDs, digital downloads, and in iPad editions, keeping with company aim of delivering professional training to customers anywhere they want to learn.