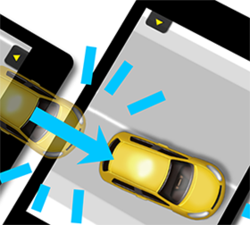 Toycar is not a game app. It's an "Enhanced Toy"!
Tokyo, Japan (PRWEB) April 05, 2013
A new phenomenon has taken over Japan, as children and car fanatics can now simulate driving a car on the Toy Car: My Little Town app. The app, developed by Japanese company Nextbook Inc., hit no.1 on the Japanese Apple App Store's What's Hot list.
This free app is compatible with iPhone, iPad, Android phones and tablets. It is popular with children and adults, as it is both fun and educational. The app is also interactive and encourages communication thanks to the Warp feature, which allows you to connect multiple devices via LAN so cars can drive from one to the other.
The app also teaches the child how to understand a map and encourages them to design their own "little town," with petrol stations, junctions and more. The app offers different modes for children of different ages, including the tilt mode for younger kids and the design functionality for older children who are interested in a more creative experience.
The experience is similar to playing with real toy cars. Nextbook strive to create realistic playing experiences with their apps. Rather than a game, they consider Toy Car to be an enhanced toy. For the child of the 21st century, this is a new way to experience a classic toy that has been enjoyed for generations.
A spokesperson from Nextbook Inc. said, "Following the huge success of Toy Car in Japan, we can't wait to share this entertaining, interactive app with the world. Our aim is to reach our target of 10 million downloads worldwide in 2013."
Nextbook is one of the top app builders for children in Japan. They specialize in apps which replicate the real world playing experience. They also ensure that many of their apps are multilingual. Some of their other popular apps include interactive fairytale stories such as Little Red Riding Hood and Snow White.
For more information and any queries about the Toy Car app or Nextbook Inc., please don't hesitate to contact
NEXTBOOK Inc. http://www.nxtbk.com/about-us/
Head Office:2-8-2-801 Minami-aoyama, Minato-ku, Tokyo, 107-0062, Japan Tel:+81-3-5843-5955
E-mail: pr(at)nxtbk(dot)com
To Download the app: http://www.toycar-app.com/