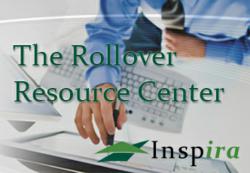 These resources are for someone that is interested in IRA programs and potentially in our services, but wants to learn more than what's presented in the sales-oriented content of our main website
Pittsburgh, PA (PRWEB) April 03, 2013
Inspira today introduced its new online "Rollover Resource Center", designed to educate the IRA record keeper's current and future clients about everything from Automatic IRA Rollovers to Payroll Deduction IRA programs.
The resource center, located on the company's website, includes more than 20 new whitepapers that cover the more intimate details of Inspira's suite of IRA services, as well as videos, podcasts, press releases, blog posts, frequently asked questions, and a collection of helpful outside resources for retirement plan professionals.
"We created an information portal for the more analytical consumer," said Lowell Smith Jr., President of Inspira. "These resources are for someone that is interested in IRA programs and potentially in our services, but wants to learn more than what's presented in the sales-oriented content of our main website."
There are multiple whitepapers focused on each of the company's services – Automatic IRA rollovers, retirement plan terminations, voluntary IRA rollovers and payroll IRA programs – as well as company background information.
The company plans to add new content to the Resource Center, specifically videos, podcasts and whitepapers, on a weekly basis moving forward.
"We're looking at this Resource Center as a living, breathing entity," added Smith. "When we improve or add a new service, you'll find out about it here. When something happens in the Retirement Plan industry, you can find our reaction in the resource center."
About Inspira: Based in Pittsburgh, PA, Inspira was founded in 2002 and provides Automatic IRA Rollover and Plan Termination services to bundled providers, recordkeepers, third party administrators, financial advisors and employers.