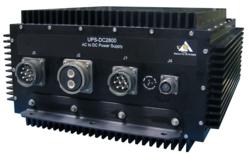 Delta, BC, Canada (PRWEB) April 04, 2013
In December 2012, Analytic Systems was pleased to announce its largest order ever for a power system for AAI Unmanned Aircraft Systems Shadow® Tactical Unmanned Aircraft Systems which are in service with customers including the U.S. Army and Marine Corps. As of today's date we have received an additional order for 60 more systems. Analytic Systems recently purchased Aegis Manufacturing Operations Software which is designed to improve efficiencies and quality by streamlining and controlling process planning and launch, process tracking and control, and quality and test management. It will improve reliability, flexibility and traceability in the Production of important projects like this.
Working with AAI's Engineering team, Analytic Systems has modified their LIAC600 (US Army/USMC AC Lithium-Ion Battery Charger) their LIDC600 (US Army DC Lithium-Ion Battery Charger) and their PWS1510MS ruggedized power supply to work as a complete power system for AAI's Unmanned Aircraft Systems's next generation Universal Ground Control Station. This product agility as well as the reliability of Analytic Systems' product line provides the innovative technology companies need to complete their programs and provide solutions for all their UAS mission critical needs.
Analytic Systems, of Delta, B.C., Canada, (http://www.analyticsystems.com) manufactures a wide range of high performance Power Conversion products including DC to DC voltage converters, MPPT Solar Charge Controllers, AC and DC source battery chargers, AC to DC power supplies and DC to AC inverters for Military, Rail/Transit, Industrial, and Commercial Marine applications, throughout North America and around the world.
For further information contact:
Bill Walker billw(at)analyticsystems(dot)com
Vice President, Sales and Marketing
NA Toll Free#: 1-800-668-3884