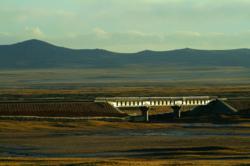 In recent years, it has become a popular style for travelers to have a train journey across China and into Tibet on the highest railway in the world. ---Helen Wang
(PRWEB) April 04, 2013
WindhorseTour, a top local travel agency specializes providing tours to China including Tibet, Yangtze Cruise and Sichuan panda volunteering experience for foreign travelers, has released a series of Tibet train tours on their website.
"In recent years, it has become a popular style for travelers to have a train journey across China and into Tibet on the highest railway in the world. Many clients emailed us to ask the issues of Tibet train tours." Helen Wang, the sales manager at WindhorseTour said. There are several benefits of taking train into Tibet. First and foremost, the astounding landscapes along the way are simply unrivaled. Passengers on the railway will see majestic alpine scenery and gaze out the window at the nomads that roam the expansive plateau.
WindhorseTour with their years of experience offer several highlight cities in the Tibet train tours as the starting city for their clients to choose. Whether they choose to visit the historical Beijing, Xi'an or attend a panda volunteer in Chengdu, every trip is filled with a range of activities and scenery. After arriving in Lhasa, clients can extend their trip with an overland tours across the marvelous Tibet.
Enroute over a 9 days Qinghai Tibet train tour, clients start the trip with a visit to the Qinghai Lake, which is the largest salt lake in China. Then they spend two days taking a soft train across Qinghai Tibetan Plateau to Lhasa. Pressurized cabins and oxygen are offered to make them feel comfortable on the train. Upon arrival at Lhasa, They will have an overland tour from Lhasa to Shigatse, and capture the breathtaking scenery of the holy lake, Namtso en route.
During the train ride, WindhorseTour suggests their clients to bring some clothes or person items necessary to remain comfortable. This includes hygiene items and toiletries. Additionally, while travelers will acclimatize to Tibet's altitude more easily on the train than arriving by plane, the train still makes a rapid ascent into a high altitude environment. Travelers are advised to rest and relax once they arrive in Lhasa. This will help ensure their trip experience goes smoothly.
WindhorseTour specializes in creating tailor made experiences based on every client's unique needs and operating groups to all provinces in China. Please visit WindhorseTour.com for more information or contact them.
Email address: news(at)windhorsetour(dot)com
TEL: (+86)-28-85593923, (+86)-28-86254701
Fax: (+86)-28-86254710