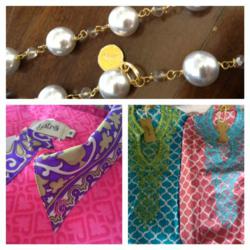 Our philosophy is to offer handcrafted designs and promote artisans and trade from India.
New York, NY (PRWEB) April 03, 2013
The Yatra Collection is headed to Atlanta, Ga. for the AmericasMart and founders will not only showcase their classic designs, but also unveil the newest pieces in their collection.
"This spring is all about bright, fun colors and rich textures," said Gayatri Khosla, who worked with Rati Bahadur to co-found the Yatra Collection, an independent fashion label featuring an artistic line of India-inspired apparel and accessories.
Atlanta Apparel is the largest apparel market on the East Coast, offering thousands of contemporary men's and women's lines in one location.
Yatra collections – India inspired apparel and accessories – pay homage to the India of Khosla and Bahadur's grandmothers, but with a contemporary edge.
Yatra, in Hinduism and other Indian traditions, means journey, or procession. And that's what the collection has been for Khosla and Bahadur, long time friends who attended boarding school together in India and realized their dreams of one day merging their creative interests in fashion to create their own label.
The Yatra Collection focuses on simple silhouettes, classic pieces and perfect tailoring.
Bahadur and Khosla call women – the women who wear Yatra – their role models.
"The Yatra woman is confident and doesn't hold back from mixing styles together," Bahadur said. "She wears the clothes rather than allowing the clothes to wear her."
"She is feminine and likes to stand out without being ostentatious and embraces fashion as an important part of her life," Khosla added. "You can see her beauty as much as you can feel it because it comes from the inside out."
The newest pieces in the Yatra Collection – sari-inspired shirts, embroidered tunics, handmade jewelry and more – will be unveiled at these shows. Both women recently returned from their latest trip to India, where they worked directly with the artisans who make each item in the collection by hand.
The clothes represent the vibrancy of everyday India. Khosla and Bahadur do not decide on a color palette until they travel to India and absorb the streets, the bazaars, the food, the music, the conversation and textures of life in cities big and small.
The current line includes, among other pieces, hand beaded tunics, hand dyed stoles with suede fringe, hand crafted jewelry and stoles detailed with the borders of heirloom saris.
"Our philosophy is to offer handcrafted designs and promote artisans and trade from India," said Bahadur. "This is fashion with a social mission."
Yatra Collection will head to Richmond, Va. after the Georgia show and participate in the Collegiate School's – Village Green Fair on April 19 and 20. The fair is an annual fundraiser that benefits the school, allowing for additional purchasing of books, classroom smart boards and other educational tools.
About the Yatra Collection: Women with a Mission
Long time friends since they were together at boarding school in India, Gayatri Khosla and Rati Bahadur knew that they would one day merge their creative interests in fashion and design to create their own label. Their complementary styles, interests and expertise have allowed them the freedom to bring the vibrancy and exclusive hand-craftsmanship of India to the western shores.
They design and work with high-end artisans to put together a collection a few times each year. The co-founders travel to India and immerse themselves in the chaos, and the vivid abundance of exquisite craftsmanship of artisans, two aspects that exist side by side and are so typical of India. It is in India that the designs come to life.
Learn more about the Yatra Collection at http://yatracollection.com/.