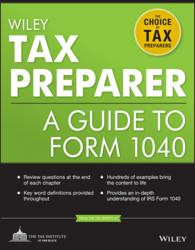 Hoboken, NJ (PRWEB) April 08, 2013
Once again, it is tax season. The United States' income tax laws are considered to be the most complex in the world and many taxpayers need outside assistance with taxes. Whether already one of the one million plus paid tax preparers, currently considering the field, or an individual taxpayer trying to navigate the complexity of the Form 1040, preparers need a firm grasp of the tax concepts on which individual taxation is based. Leading accounting publisher John Wiley & Sons worked with The Tax Institute at H&R Block to create Wiley Tax Preparer: A Guide to Form 1040 (Wiley, 978-1-118-45747-4, April 2013, US $49.95) as a refresher for the experienced tax preparer, and as a readable guide for the less-experienced. This timely guide is an essential tax resource providing readers with useful information on tax principles and filing requirements that a preparer must know to complete a 1040 series return and associated schedules.
The tax code has become so complex that paid preparers filed almost 60% of individual tax returns in 2007 and the number has grown each year. Not only do professionals need annual updates on the latest tax code ins and outs, but also individual tax filers don't stand a chance to optimize their return without a professional's guidance. The Wiley Tax Preparer is a great way to get the latest practices and procedures in order to get the best return, or to provide clients with the absolute best tax services. Coverage includes:
•Practices and Procedures
•Treatment of Income and Assets
•Deductions and Credits
•Other Taxes
•Preliminary Work and Collection of Taxpayer Data
•Completion of the Filing Process
•Ethics and Circular 230
For anyone looking for a practical guide to the principles behind Form 1040, look no further. The Wiley Tax Preparer is the most accessible guide to understanding how intricate tax laws affect individual taxpayers, and it is now available for purchase online and at retailers nationwide in both print and all e-book formats. For a list of retailers, visit http://www.wiley.com.
About the Author
The Tax Institute at H&R Block is the go-to source for objective insights on federal and state tax laws affecting the individual. The Institute provides information and analysis on the real world implications of tax policy and tax proposals to individuals, policymakers, journalists, tax policy experts and tax preparers. The Tax Institute provides clear and objective analysis from our team of experienced tax policy specialists that is up-to-date and tailored to each inquiry. The Tax Institute does not advocate for changes in tax policy. The Tax Institute draws from the expertise of credentialed tax policy specialists including CPAs, Enrolled Agents, attorneys and former IRS agents with years of experience and access to H&R Block's extensive national network of industry experts and data.
Wiley Tax Preparer
A Guide to Form 1040
Published by John Wiley & Sons, Inc.
Publication date: April 8, 2013
$59.95; Paperback; ISBN: 978-1-118-07262-2