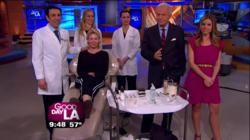 Los Angeles, California (PRWEB) April 03, 2013
According to a March 25, 2013 Miami Herald article, more men are going in for procedures such as tummy tucks, Botox, and dermal fillers, driving a nine percent increase in the number of men deciding to undergo plastic surgery in 2011 compared to 2010. 2012 figures aren't yet available. (Go to: goo.gl/IzI2z).
"The report mentions a 9 percent increase in minimally invasive cosmetic procedures which is what we offer," says Dr. Simon Ourian, Medical Director of Epione Beverly Hills, "and I'd say that figure might be on the low side. In fact, I'm surprised that the increase for surgical cosmetic procedures was higher given the overall industry statistics."
According to the article, since 1990 there has been a 106% increase in men undergoing procedures, and the figures continue to steadily rise. While more women continue to undergo plastic surgery than men, the recent uptick in men deciding to face the knife is considered an industry revolution.
The article goes on to say that men who opt for plastic surgery tend to be extra cautious about the processes entailed. They desire procedures that involve minimal pain and recovery time. Additionally, men also request treatments that will lead to subtle rather than overblown changes. Some of the most popular procedures among men include eyelid surgery, rhinoplasty, ear shaping and even breast reduction.
"The taboo against men getting cosmetic treatments is long gone," concludes Dr. Ourian, "though I think it's unlikely that our patient population will ever be split equally between men and women. What it means is that the man who might have thought about cosmetic surgery 20 years ago is much more likely to act on that desire today."
Dr. Ourian has been a pioneer in laser technology and non-invasive aesthetic procedures including Restylane, Juvéderm, Radiesse and Sculptra. These treatments are used for the correction or reversal of a variety of conditions such as acne, acne scars, skin discoloration, wrinkles, stretch marks, varicose veins, cellulite, and others. More information about the increase in men seeking plastic surgery can be found on Epione's website.