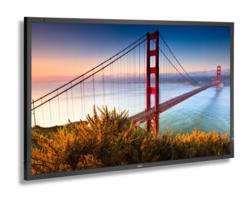 The X 55 weds a sleek design with an infra red (multi-touch) technlogy.
Austin, Texas (PRWEB) April 23, 2013
TouchSystems introduces a new 55-inch display with multi-touch. The display is part of the X Series, TouchSystems' line of executive-level touch screens.
Carol Nordin, president of TouchSystems, says, "Our customers are looking for more interactive solutions in larger sizes. We aim to meet that demand by using newer technologies in our displays. These newer technologies result in multi-touch capabilities, an important factor when seeking to create solutions that mimic smartphones or tablets."
The X 55 is designed for 24/7 operation. It comes with added thermal protection, internal temperature sensors with self-diagnostics, and fan-based technology and is comprised of an industrial-strength, premium-grade panel. The display is LED backlit, meaning that power consumption is decreased and that the display has a slimmer depth. It also features a built-in, standardized expansion slot – commonly known as an Open Pluggable Specification (OPS) slot – that allows for seamless integration with third-party components such as single board computers or media players. The display is integrated with an infra red technology that offers, at minimum, six touch points, but it can be integrated with an infra red sensor that offers 12 or 32 touch points.
TouchSystems was established in 1996. The company is a pioneer in the touch technology industry. TouchSystems works with its customers to create innovative touch solutions, such as desktop touch monitors, interactive digital signage, all-in-one systems, kiosks, and industrial controls and peripherals. TouchSystems is based in Hutto, Texas and is a certified woman- and minority-owned small business.