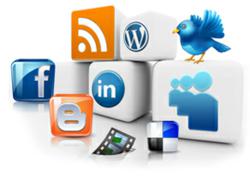 It's never too late to get your company engaged with social
Hamilton, NJ (PRWEB) April 08, 2013
Upward SEO, a full-service online reputation management provider has recently expanded their services to include social media optimization and management. The change comes after a growing shift towards active social brand management among leading companies and mid-sized businesses.
Social media optimization, a key component of online reputation management, requires a thorough analysis of a company's online presence and social engagement. Even if a company is not actively posting to a social media account like Facebook or Twitter, customers are talking about them. According to a recent study by Massrelevance, more than 75% of consumers comment on brands they come in contact with.
The new service by Upward SEO consulting is offered in three distinct phases. The first phase is comprised of a thorough analysis of social media accounts, account standing, and optimization. After the initial review, a plan is developed to address the full optimization of social media accounts and create an editorial calendar consisting of original and re-purposed content for specified audiences. The final phase leverages real-time social media monitoring tools to manage and engage in social media threads.
"We know that companies, brands, and products are an integral part of the social conversation. Now we have the tools and expertise to help companies ensure consistent messaging across their social channels and have a direct dialog with those who are talking about them," says Upward SEO Consulting CEO Michael H. Fleischner. "It's never too late to get your company engaged with social. Others are already talking about you. Companies need to decide if they will leverage social conversations for the positive or let them have a negative impact on their brand."
New services for social media management include the strategy, planning, optimization, posting, and monitoring of social media for businesses of all sizes. The Upward SEO service is provided in conjunction with other reputation management solutions, designed to enhance the online calling cards for today's leading businesses.
Fleischner believes that,"Social media is not going away, and companies should have an open and honest communication policy with customers. Not responding to concerns of issues that arise is no longer an option. Consumers, especially younger consumers, expect you to listen and respond directly – regardless of where their message is being communicated."
In addition to Facebook and Twitter, Upward SEO consulting also has experience with other social networks such as Pinterest, LinkedIn, and Google+ as part of a comprehensive online reputation management solution. You can learn more about these services by visiting the Upward SEO consulting website or calling 609-310-1808.