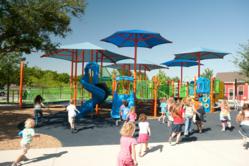 LUBBOK, TX (PRWEB) April 08, 2013
March 7, 2013 - The City of Round Rock was recently awarded the Park Development Innovations award for the city's Play for all Abilities Park. The award was bestowed in recognition of the city's development process that was completed by the department staff. This process included long range planning, land acquisition, donations, grants, and sponsorships, as well as maintenance. Play for All Abilities is a 51,000 square-foot playground, providing barrier-free play for all children, including those with special needs.
The vision for Play for All Abilities Park began nearly 6 years ago when Kenneth Seymore struggled to find a place to take his son Dennis to play. Dennis Seymore was born with Arthrogryposis, a rare congenital disorder limiting his range of motion and muscle development. Kenneth wanted to design a park that let Dennis, as well as children of all abilities, play together.
Several playground vendors submitted proposals for the actual playground structure, addressing component accessibility and appropriate surfacing requirements. The winning proposal was submitted by Play & Park Structures and implemented the best practices for creating universally designed playgrounds outlined in Me2, a playground design guidebook developed in partnership with Utah State University, Center for Persons with Disabilities and PlayCore. Me2 provides education and awareness of the 7 Principles of Inclusive Playground Design and the importance of creating usable play environments which recognize everyone's right to fully participate in equitable play. Through these guiding principles, the proposal fully addressed the needs of the whole child by intentionally addressing the physical, cognitive, communicative, social/emotional, and sensory needs of all children.
After about 5 years of persistence and hard work, Kenneth and the city of Round Rock were able to turn this dream into a reality. Their hard work and dedication has paid off and continues to strengthen the community through the power of play!
To receive a complimentary copy of The 7 Principles of Inclusive Playground Design, please visit playandpark.com
About Play & Park Structures
Since 1976, Play & Park Structures, a PlayCore company based in Chattanooga, has provided high quality playground products that inspire children's imaginations and creativity through innovation and superior product design. Their colorful and innovative products are designed to engage a child's creativity and keep their attention while interacting with their peers in creative yet challenging environments. For more information visit: http://www.playandpark.com or call: (800) 727-1907.