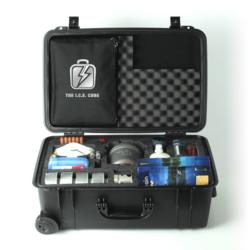 Just in time for severe weather, The I.C.E. Cube Kit will keep families safe.
Atlanta, GA (PRWEB) April 09, 2013
Atlanta based startup bangbang innovations today announced the release of "The I.C.E. Cube" home emergency kit. The I.C.E. Cube is a premium quality home emergency kit that keeps families safe after a storm knocks out power. By providing a power source, water filtration, emergency food, and many other necessary components, The ICE Cube Kit will make storm season a little less scary, and a lot more safe.
The President of non-profit Magnolia Disaster Relief and "Toomer's for Tuscaloosa" Lani Nichols says "This is a really amazing product and may be just what you need for your safe place. I love that it has it's own source for producing electricity!"
The I.C.E. Cube is housed within a nearly indestructible case that is air-tight, water-tight and crush proof, and its contents are all secured in a top quality custom foam interior that holds everything in place. In order to generate power safely indoors, and without gasoline, The I.C.E. Cube Kit contains a thermoelectric generator that generates power by simply heating up water. The power generated is enough to charge cell phones and other small electronics, keeping people connected to friends and family even if the power is down. There is also a squeeze water filtration system included, which insures that families will have enough water in the event of a post storm boil advisory.
BangBang Innovations Co-founder Chris Lusk saw a problem he wanted to solve: "We created The I.C.E. Cube because we wanted to provide families with a premium quality product that they could rely on in an emergency situation. Everywhere you look people recommend you have an emergency kit for your family, yet there wasn't one on the market that is premium quality and has a power source. Now there is."
Nick Tapp, BangBang Innovations' other co-founder says "Though some preppers out there may be called 'crazy', there's absolutely nothing crazy about being prepared for emergencies. We are applying the prepper mentality in a practical way by giving families what they'll need for severe weather, NOT the zombie apocalypse."
The I.C.E. Cube Kit's case has an unconditional lifetime guarantee, and also contains various tools, warming elements, and 8 servings of extended shelf life prepared food. A mobile app is also being developed that will allow people to see video instructions on how to use everything contained in the kit, as well as receive up to the minute weather alerts for their area. It is available for purchase online at http://www.TheICECubeKit.com, as well as Amazon and facebook.
###
Founded in 2012, BangBang Innovations is an Atlanta, GA based startup that is developing new tools and services for consumers and businesses. The company offers a wide range of products and services designed to incorporate technology into everyday life.
For more information or high resolution images, press only:
Contact:
Nick Tapp
Co-Founder, BangBang Innovations
p: 770-363-2160
email: nick(at)bangbanginnovations(dot)com
For more information on The I.C.E. Cube:
http://www.TheICECubeKit.com or
http://www.facebook.com/TheICECubeKit
For more information on bangbang innovations:
http://www.bangbanginnovations.com