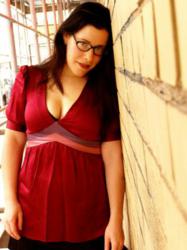 (PRWEB) April 05, 2013
People have been snatching up the recently released audio book of Rachel Kramer Bussel's bestselling anthology Gotta Have It, narrated by the amazing Rose Carraway. Rose and Rachel have gotten together to offer free downloads of five of the stories from Gotta Have It, available on Rachel's website.
Rachel Kramer Bussel has been featured in Glamour Magazine and on The Frisky. She writes for New York Magazine and hosts SRO readings around the country. Rachel formerly wrote the "Lusty Lady" column for The Village Voice and was the longtime senior editor of Penthouse Variations. Check out her other books available on Audible.
Gotta Have It
Edited by Rachel Kramer Bussel
Who doesn't have time for a quickie? Rachel Kramer Bussel has collected a wide and wild array of original erotica stories by authors who understand exactly how to pique a reader's interest and get them off—and they do it all in 1,200 words or less. Here are 69 short and steamy ways to get it on. Gotta Have It serves it up quick and naughty.