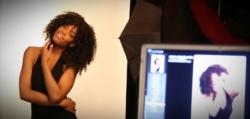 Remy Capillus awards Beholder as studio video production agency of record to produce a national video & media campaign to present their new hair product line.
Warminster, PA. (PRWEB) April 05, 2013
Beholder Productions signs contract with Remy Capillus, a manufacturer and distributor of high-end, Remy virgin hair extensions. This contract will allow Beholder to produce multiple product demos and marketing videos for Remy Capillus' various product lines.
On March 17th, Beholder's sound stage studio was converted to a swanky NYC loft-style hair salon. The 4,000 SF studio was fit out to support the twenty+ cast and crew production schedule. Beholder's staff designed and built a custom set with four identical hair stations including built in mirrors and countertops. Mark Yudell, president and CEO of Remy Capillus said, "Our company is a manufacturer of hair extensions. Our shoots are not easy, especially with 4 "Project Runway" models and 5 master stylists running around to get everything right. The scary part is you have no idea how things will turn out. First, the sets that were built for our shoot were 1st class! They were amazing and perfect and Beholder Productions achieved that with only a little bit of feedback from us."
Patrick Fahy, Beholder's Camera Operator stated, "The set, built in-house specifically for the shoot, made filming easy. It wasn't the camera making the set look good; it was the set making the footage look good." Chloe Raison,Beholder's Associate Producer, also added "The Remy Capillus shoot was a perfect example of the multi-functional studio. The set was built to be functional and the stylish makeup area was used on and off the camera. While the team was filming, Remy Capillus'still photographers were simultaneously capturing stunning shots of the models."
To see the video, visit http://www.beholderproductions.com/case-studies/remy/.
Stylists worked about 6-8 hours on each of the models to get the desired look. The variety of products from the Remy Capillus line appeals to a variety of clients. Beholder's videos help to showcase the product differences and ease of stylist use for the products.
Remy Capillus was very pleased with the finish product and have already set up plans for another project with Beholder Productions for later this summer.
###
Beholder Productions is the ultimate video & media partner for digital film & HD video production, post-production, motion graphics, animations, and interactive media services. We serve brands & corporations, event marketing agencies, marketing & PR firms with successful media & video solutions. http://www.BeholderProductions.com
Contact: Craig Andrews
Phone: 877-280-7245