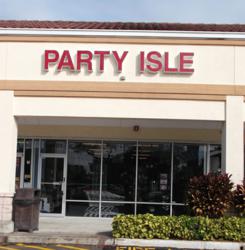 St. Pembroke Pines, FL (PRWEB) April 08, 2013
Party Isle is a full service party store, and is owned and operated by local entrepreneur Gwen Million of St. Pembroke Pines, FL. Party Isle is located at 19481 Sheridan St. Pembroke Pines, FL. 33332 in the Laguna Isles Shopping Center, and will offer thousands of quality products, all at discounted prices. The large variety of products carried at Party Isle is expected to bring more business to the area while providing an affordable place for the community to shop for all their party supplies.
Whether you need plates, napkins, cups, balloon bouquets, greeting cards, or other party supplies, you will find it, and more, at Party Isle. Gwen Million has stocked her store with basic needs, as well as unique items, all of the highest quality and selling at discounted prices. With the help of Discount Party Store Developers, Gwen Million has a network of over thirty suppliers, giving them the ability to constantly introduce new and exciting products into their store.
Gwen Million is confident that Party Isle will be well-received by the community because "…Our focus is to give our customers great service and quality products at a reasonable price." In addition to great savings, there is easy access to the store with close, convenient parking. Party Isle will be open Monday thru Saturday 9:00 a.m. to 9:00 p.m., Sunday 10:00 a.m. to 6:00 p.m.
Gwen Million contracted with Discount Party Store Developers to develop her vision of Party Isle. Discount Party Store Developers provides a complete turnkey business opportunity, including finance, site location, lease negotiation assistance, fixtures, merchandise, all labor, training, and long term support services. According to Bob Kelliher, the company's General Manager, "…Gwen Million has been involved in every stage of her store's development, from choosing the location and merchandise, to extensive training. Her hard work and dedication will make Party Isle a wonderful addition to the retail environment. We wish her the greatest success!"
In just over two decades Discount Party Store Developers and their parent company, Discount Retail Store Services, have opened nearly 3,000 retail stores of various concepts. They specialize in turn-key business setup for those who want to start a business; their exclusive key-services process includes all essential core elements to opening a new enterprise, plus training and ongoing support for the life of the business. Discount Party Store Developers' parent company, Discount Retail Store Services, offers clients business models including dollar stores, clothing stores, party stores, teen stores, mail box stores, and fitness centers. Entrepreneurs can get news about Discount Party Store Developers from their website or YouTube.