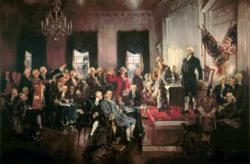 So usurpation is a kind of domestic conquest, with this difference – that an usurper can never have right on his side.
Chicago, IL (PRWEB) April 09, 2013
Usurpation Day 2013 is remembered in a new blog posting by political scientist Bryan W. Brickner; on 9 April 1792, Congress first usurped We the People's constitutional representation.
The History of Congress provides the evidence. The US Constitution mandates one House Representative for every "thirty Thousand" citizens per state (Article 1, Section 2, Clause 3). On 9 April 1792, Congress first changed the representation ratio without amending the Constitution: their small usurpation, from 30,000 to 33,000, has turned into a large usurpation – a ratio of one House Representative for every 710,000 citizens.
The taking of rights belonging to others – usurpation – animated our revolution: from the slogans "Don't Tread On Me" and "No Taxation Without Representation" to the July 4th "Declaration By the Representatives of the United States of America," the founding was political theory in action.
"The revolutionaries, the founders, can be described as Lockeans," noted Brickner, "They learned from and ascribed to the political theories of John Locke (1632-1704), author of Two Treatises on Government (1680-90)."
Viewing Locke as 'the Founders' Founder,' one sees how his political writings on the morality of usurpation fueled the revolutionary spirit – the Spirit of 1776. In Two Treatises, Locke wrote about conquest and its relationship to "foreign" and "domestic" usurpations: "As conquest may be called a foreign usurpation, so usurpation is a kind of domestic conquest, with this difference – that an usurper can never have right on his side, it being no usurpation but where one is got into the possession of what another has right to."
"Basically," Brickner observed, "if you take something not yours, you can't be in the right."
Locke continues: "This, so far as it is usurpation, is a change only of persons, but not of the forms and rules of the government; for if the usurper extend his power beyond what, of right, belonged to the lawful princes or governors of the commonwealth, it is tyranny added to usurpation."
"Locke is saying usurpations create tyranny," concluded Brickner, "which makes Usurpation Day 2013 worth remembering."
Brickner has a 1997 political science doctorate from Purdue University. Some of his books include: The Promise Keepers: Politics and Promises (1999), Article the first of the Bill of Rights (2006), and The Cannabis Papers (2011). The Bryan William Brickner blog provides a collection of published works and press coverage and is an ongoing resource for the political science of constitutional usurpation and the biological science of cannabinoids.