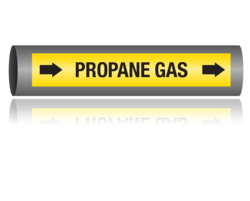 "Many of our pipes are exposed to the outdoor elements and we have had no issues with fading. After 3 years of exposure, they are still as new as the first day we applied them."
Lake Oswego, OR (PRWEB) April 10, 2013
Pre-made labels with common text messages that are needed in most factories, warehouses, and other manufacturing facilities are now being offered through Creative Safety Supply. A well run business is a lean business that incorporates safety, communication and information into the business system. Pre-made labels can get labeling projects started and completed quickly without depending on an employee designing and printing out labels on his own. Successful businesses today are very busy trying to keep on top of the market scene and pre-made labels can help a business by reducing the amount of work that it takes to design and print out their own labels.
Some options offered through Creative Safety Supply are labels identifying pipe contents such as hot water, natural gas, acid, air and the list goes on and on. Pre-made labels can also give information that will help someone locate vents, waste containers, material that is needed in production, safe exit doors, etc. The uses for pre-made labels are endless. Creative Safety Supply will also customize labels with text messages specific to a business needs.
Pre-made labels give important information that can create a safe and lean facility. The easy peel-n-stick application will complete labeling projects in a snap. Employees along with outside service personnel will be able to quickly identify pipes and their contents when emergency situations arise. Hazardous material inside containers can be properly marked informing personnel to handle with care.
Pre-made labels can withstand service temperatures of -25 degrees to 210 degrees and are resistant to water, chemicals, UV exposure, smearing and smudging. The label's durable vinyl material can be used in outdoor and indoor applications and are designed to last 5-7 years outdoors. A plant manager commented, "Many of our pipes are exposed to the outdoor elements and we have had no issues with fading. After 3 years of exposure, they are still as new as the first day we applied them."
For more information about Pre-Made Labels, please visit http://www.creativesafetysupply.com/pre-made-labels/ or call toll-free (866)777-1360 to speak with a professional representative.