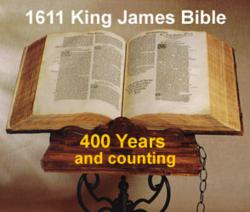 The Greatest voice ever recorded...Narrating the Greatest Book Ever Written.
Dallas, TX (PRWEB) April 07, 2013
Now users can access the greatest book ever written, read by the greatest voice ever recorded, according to the Chicago Tribune. Alexander Scourby majestically and powerfully reads the timeless story of faith, hope and love. Still the bestselling book of all time, since it was first published in 1611, the King James Bible has stood the test of time. It's still the Gold Standard and is the living and breathing Word of God, that enriches every life it touches…every day.
"So then faith cometh by hearing, and hearing by the word of God. 18 But I say, Have they not heard? Yes verily, their sound went into all the earth, and their words unto the ends of the world". Romans 10:16-18
Even in our modern world of constant change, the King James Bible is still the same, yesterday, today and forever, but accessing it just got a whole lot easier for users
Users will find that with the Scourby Bible Study APP, encouragement from those precious Words in the Bible are just a tap away. There are 31,175 blessed scriptures verses in the King James Bible and they are all instantly searchable for instant access. Whether users have an Android Phone APP or an iPhone Bible app, the Bible can now be with users wherever they go ready for instant access anytime and anywhere.
Whether wanting to brush up on Bible Study or simply needing to hear a favorite scripture verse that will speaks to the heart, the Scourby Bible Study APP is there when users want it need it.
Users will find this all new Audio Bible app an excellent tool for Bible Study and personal devotions; it's also perfect for multi-tasking and therefore becomes a redeemer of time. Users can simply allow the audio Bible to keep playing in the background as they go about daily activities. Users can even create playlists of favorite scriptures verse to listen at bed time.
With an advanced search engine feature for pinpointing and retrieving favorite book, scripture verse or words in mili seconds in a bimodal format, both voice and text, with the verse being read highlighted in yellow. Users can now read the King James Bible through at a pace of choice with the Bible APP's electronic bookmark.
Whether users worship at home, in church or on the go, the Scourby Bible Study APPs are life-changing because of the "One" who made it all possible. Users didn't write the transforming grace of God, but they can be transformed by their Words and those words can now be accessed like never before with either the audio Bible App or the Bible mp3 for mp3 players and personal computers.
Users can become a part of the new adventure and download the all new Scourby Bible Study APPs for Android, iPhone or your iPod touch devices as well as the mp3 Bible at scourby.com.