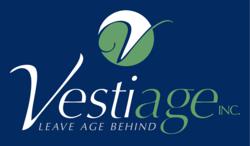 Investors will begin to see the power of what we're creating at Vestiage.
Newport Beach, California (PRWEB) April 10, 2013
Vestiage, Inc., an anti-aging lifestyle company focused on science-based research and development, sales and marketing of premium branded highly effective anti-aging cosmeceuticals and nutraceuticals, announced today that it has filed a disclosure statement known as Form 15c2-11 with the OTC Markets Exchange. The release outlines Company details for the first time to the public and clears the path for a symbol change application in the upcoming month.
"We are pleased to have executed this component of our plan to increase the visibility of the Company with market participants," stated Scott Kimball, CEO of Vestiage, Inc. "The Company is now public and we have several initiatives to execute upon in the coming months and years, including our acquisition program, expansion of distribution in multiple channels for our brands, and the beginning of our investor relations campaign. Our investor relations efforts will begin to show the investment community the power of the model we have created, the power of the team we have assembled, and the synergies of the acquisitions we are pursuing. We intend to acquire brands and integrate and leverage their management teams expertise into our business, add key advisory board members that can have true impact on our business, and grow our footprint geographically through online, direct response, and retail depending upon the brand."
The disclosure filing describes the Company's securities, the number and class of shares outstanding, names the Company's law firm and transfer agent, discusses the Company's business strategy and names the Company's Directors and Executive Officers as well as certain beneficial owners of the Company stock.
About Vestiage, Inc
Vestiage is a leading publicly traded anti-aging lifestyle company. Vestiage brands are available at http://www.LEAVEAGEBEHIND.com and address the top "in demand" anti-aging consumer concerns. The company is involved in the research, development, marketing, and sales of science-based anti-aging and longevity products. Vestiage offers premium branded science-based cosmeceuticals and nutraceuticals and is focused on the use of human stem cell, marine/ocean-and cutting edge botanically-based ingredients and science to produce highly potent and effective products with clinically proven, patented ingredients. To learn more about Vestiage products please visit http://www.LEAVEAGEBEHIND.com.
This Press Release contains forward-looking statements within the meaning of the Private Securities Litigation Reform Act of 1995 with respect to our financial condition, results of operations and business. These forward-looking statements can be identified by the use of terms such as "believe," "expects," "plan," "intend," "may," "will," "should," "can," or "anticipates," or the negative thereof, or variations thereon, or comparable terminology, or by discussions of strategy. These statements involve known and unknown risks, uncertainties and other factors that may cause industry trends or our actual results to be materially different from any future results expressed or implied by these statements. Important factors that may cause our results to differ from these forward-looking statements include, but are not limited to: (i) changes in or new government regulations or increased enforcement of the same, (ii) unavailability of desirable acquisitions or inability to complete them, (iii) increased costs, including from increased raw material or energy prices, (iv) changes in general worldwide economic or political conditions, (v) adverse publicity or negative consumer perception regarding nutritional supplements, anti-aging or stem cell facial care products or stem cell technology in general, (vi) issues with obtaining raw materials of adequate quality or quantity, (vii) litigation and claims, including product liability, intellectual property and other types, (viii) disruptions from or following acquisitions including the loss of customers, (ix) increased competition, (x) slow or negative growth in the anti-aging or cosmetics, beauty, or nutritional supplement industry or the healthy foods or anti-aging channel, (xi) the loss of key personnel or the inability to manage our operations efficiently, (xii) problems with information management systems, manufacturing efficiencies and operations, (xiii) insurance coverage issues, (xiv) the volatility of the stock market generally and of our stock specifically, (xv) increases in the cost of borrowings or unavailability of additional debt or equity capital, or both, or fluctuations in foreign currencies, and (xvi) interruption of business or negative impact on sales and earnings due to acts of God, acts of war, terrorism, bio-terrorism, civil unrest and other factors outside of our control. Copies of our SEC reports are available upon request from our investor relations department or may be obtained at the SEC's website (http://www.sec.gov).