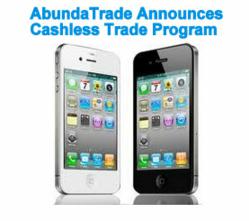 "People have used gadgets like iPhone™'s, tablets, smartphones and used DVDs, CDs that could be traded in to AbundaTrade creating a store credit that can then be used to buy items in the on-line store with the company." states AbundaTrade's Kent Wagner
Mount Pleasant, South Carolina (PRWEB) April 09, 2013
Cashless trading for gadgets is a possibility with AbundaTrade. Recently a future trader with AbundaTrade dropped an iPhone5, ruining it beyond repair. The trader knew of AbundaTrade, but had never done business with the company. It just so happened that even though the iPhone5™ was ruined all was not lost because the person also owned a high end digital camera with decent trade-in value at AbundaTrade. The trader submitted the camera on-line using the AbundaTrade list trade submission program and received notice that the camera trade-in value with the 20% extra on-line store value added up to almost enough to cover a trade for another iPhone5 in stock at the AbundaTrade on-line store. The trader and AbundaTrade completed the transaction thus initiating an almost cashless trade with the company. Traders can learn more about what is being offered by the company on the company's website as well as on the AbundaTrade's Facebook Fan Page.
Traders with credit at the company buying at the AbundaTrade on-line store get an additional 20% more value.
AbundaTrade's purpose in announcing their cashless trading program is to make everyone aware that there are ways to replace items or get desired items like tablets, iPhone's, smartphones, and tablets without having to spend money by completing trades with the company with this terrific program. People with DVDs, CD's, video games, tablets, digital cameras and other like items can take those items, trade them in to AbundaTrade, then buy items on store credit without having to come out of pocket with a dime.
The cashless trade program offered by AbundaTrade's gives consumers with used DVDs, CD's video games and gadgets buying power without requiring cash.
AbundaTrade.com came onto the global reCommerce scene when the company opened for business in 2008. The primary focus of the company is to buy trade and sell used items including phones, laptops, sound systems, game consoles, gadgets, and more.
Established in 2008, AbundaTrade.com is proud to be a part of the global reCommerce industry. Their efforts are focused more on trading and selling of used items instead of discarding old items in favor of new ones. By concentrating on the options available through trading items, AbundaTrade.com offers its customers the opportunity to obtain items for less as well as providing an environmentally friendly way to shop. In addition to helping the environment by repurposing phones, gadgets, books, CD's, DVD's and video games, AbundaTrade.com also uses reuses packing material and recyclable shipping materials whenever possible. At AbundaTrade, they believe in being smart and mindful consumers.
"People have used gadgets like iPhone™'s, tablets, smartphones, 100's of used DVDs, CDs and video games around the house that could be traded in to AbundaTrade creating a store credit with the company that can then be used to buy items in the on-line store with the company." states AbundaTrade's Kent Wagner. "We highly suggest and encourage people to take advantage of our cashless trade program. We pay more for used gadgets, DVDs, CD's and video games than people know. When you think about it just makes cool sense to trade in items and get store credit with us and get an item you want or need like an iPhone™ or Android™ if you don't currently have the cash to make the purchase."
About AbundaTrade.com:
The company, AbundaTrade.com is the modernization and revitalization of Millennium Music, a once stubbornly successful independent music retailer and Inc Magazine case study. AbundaTrade.com guarantees the highest overall value online for your gadgets, used CDs, used DVDs, used Books, used Blu-Rays and used Video games. The company specializes in 're-commercing' consumer products by purchasing them for cash then reselling them online. The company typically pays significantly more for more products than any other company in the industry.