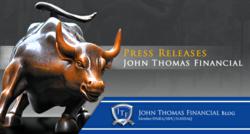 Social Media Is The Future!
New York, New York (PRWEB) April 09, 2013
Thomas Belesis, CEO of John Thomas Financial, is pleased to announce the launch of it's all new social media initiative. As a part of it's campaign to inform consumers and investors about market swings and dynamics, John Thomas Financial will be releasing weekly reports, and updating Youtube and Twitter with updates pertaining to market conditions.
Thomas Belesis mentioned, "Social Media has become increasingly prolific in the past few years, with the growing adoption of sites like LinkedIn, Twitter, and Facebook, which encourage the spread of ideas, and information. With recent changes in SEC rules, allowing companies to make significant announcements on Facebook, Twitter, and other social media websites, a social media campaign only makes sense." Thomas Belesis is confident that this new social media initiative, will allow investors still on the sidelines get the information needed to make an informed decision.
Investors and consumers can look forward to learning about many economic trends, by watching videos on John Thomas Financial's YouTube channel, in addition to other media channels.
About John Thomas Financial:
John Thomas Financial, a member of FINRA and SIPC, is an independent broker-dealer and investment banking firm headquartered in New York City's Wall Street district. Emphasizing a client-centric approach to managing all aspects of its business, John Thomas Financial and its affiliates offer a full complement of retail brokerage, private wealth management, and corporate advisory services tailored to the unique needs of its clients. The firm publishes the Fiscal Liquidity Index, a unique daily indicator that looks at government spending and its impact on the financial markets, The Kaufman Report, a weekly technical stock market analysis, and The John Thomas Financial Economic Outlook, a report analyzing consumer sentiment, market outlook, credit cycles and dozens of other market influences.
Important Disclosures:
The information provided in this publication is for informational purposes only. Investors should consider this report as only a single factor in making their investment decision. This informational report is not an offer to sell or a solicitation to buy any security. This report has been prepared as a matter of general information. It is not intended to be a complete description of any company, and is not an offer to buy or sell any security. All facts and statistics are from sources believed to be reliable, but are not guaranteed as to accuracy. Before acting on the materials herein, you should consider whether it is suitable for you particular circumstances and, if necessary seek professional advice investments involve risk and an investor may incur losses. Past performance is no guarantee of future performance. Trading and investment decisions are the sole responsibility of the reader.