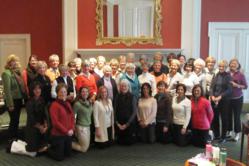 As the golf season opens across the country we look forward to equipping more golf club members with what we believe to be the most logical golf swing improvement product on the market
Portland, Oregon (PRWEB) April 11, 2013
One of Nancy Herpers duties as the Chair of The Waverley Country Club Women's Kickoff Breakfast was to create a themed event that was fun and helpful to her fellow golfers. After deciding on the theme of the first spring tournament breakfast, Swing Thoughts, Herpers contacted 1SwingThought.com to assess whether their swing thought reminder stickers would fit with the theme.
After speaking with 1SwingThought.com's owner, Bryon Smith, Herpers took advantage of their special discount for golf club members.
According to Herpers, "Bryon was very friendly and helpful in selecting the swing thoughts that would be most popular to our members. In addition to the discount, he donated 1SwingThought.com polo shirts and golf caps to us to use in our raffle. The swing thought reminder stickers were a perfect fit."
Waverley Country Club is a very special place that embraces a proud history and respected traditions. Recognized as the only Platinum-rated country club in the Pacific Northwest, Waverley, which offers an array of services and facilities, is more than just a golf course; though golf is why they exist. As the PNGA has so eloquently stated, "Waverley has served as the center of the golf universe in Oregon since opening in 1896."
"We are happy to provide our line of swing thought reminder stickers to such a great group of golfers who are members of such a prestigious and historical club", remarked Smith.
A major goal of 1SwingThought.com is to help grow the game by making it more fun by helping golfers play better.
"As the golf season opens across the country we look forward to equipping more golf club members with what we believe to be the most logical golf swing improvement product on the market", continued Smith.
About 1SwingThought.com
A BILMBA Marketing & Associates owned and operated site with a patent pending line of golf lesson and swing thought stickers, located in Los Angeles CA. 1SwingThought.com sells high quality vinyl swing thought and image appliqués, developed with golfers and professional golf teachers, that are water resistant, sun resistant, removable and USGA compliant.
http://www.1Swingthought.com
Contact: Bryon K. Smith
866.512.6661