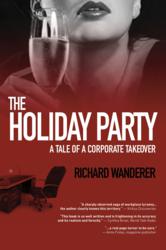 Los Angeles, CA (PRWEB) April 10, 2013
Richard Wanderer, author of the critically acclaimed novel, The Holiday Party (A Tale of a Corporate Takeover) commented today on a recent feature article in the LA Times. The article discusses greed within corporations and how they are working to get more mileage out of their employees for corporate gain and lack of care for the employee's well being. Wanderer's comments, "Sorry Gordon Geckko, greed's not good, it's bad. Corporate greed is hurting employees within an organization. The corporations should care about the well-being of their employees - they should consider the work load and the hurt that takes on an employee's loyalty to the organization."
According to the LA Times article, the organizations are dumping more work on the employees, raising their quotas and not caring if they leave because someone else would be there to replace them very quickly.
In the 1987 hit movie, Wall Street, the takeover expert, Gordon Geckko, utters the famous line, "Greed...is good." Wanderer is not alone in saying that corporate greed is bad.
In his novel, "The Holiday Party (A Tale of a Corporate Takeover)," a major media conglomerate takes over a national family owned magazine run in an employee friendly manner: the media conglomerate ignores the chaos they are causing to their employees as they impose a Draconian thrift regime upon them for their own greed and those of their shareholders. However, to this takeover group it was of major importance to change the name of the company's annual industry-wide Christmas Party to "The Holiday Party" in order to look politically correct to the outside world.
Wanderer believes there is a strong segment of the American public that has found their careers interrupted and sometimes shattered when the companies they helped to build are suddenly taken over and down-sized by greedy interlopers with only an eye for the quick fortunes they can make while ignoring the human hardship they impose on loyal, hardworking people. Wanderer, states he wanted to give readers an inside look as to how these things can come about by writing this novel and though it is a fictional suspense novel, some tips as to how one might navigate through this type of scenario.
Richard Wanderer, author, and a member of the California Bar, spent over fifty years working in the advertising sales departments of major national magazines in New York City and Los Angeles. His personal experiences and background has made him an expert in the field of employer/employee relationships. The characters in his novel are an amalgamation of people he has met along the way and his active imagination.
LA Times article: http://www.latimes.com/business/la-fi-harsh-work-20130407,0,7162845.story
About Richard Wanderer's Novel:
Richard Wanderer's fictional suspense novel, The Holiday Party (A Tale of a Corporate Takeover) deals with the takeover of a family owned national magazine, run in an employee friendly manner, by a a huge media conglomerate that installs a Draconian thrift regime. His characters and situations are often an amalgamation of scenarios he encountered over the years. His novel has received very strong reviews: Kirkus Reviews calls it, "A sharply observed saga of workplace tyranny"; San Francisco Book Review, " Page-turner"; MidwestBook Review, "Highly recommended"; IndieReader, "Suspenseful"'; Bookviews by Alan Caruba, "Leaps off its pages". The book's website is: The Holiday Party (A Tale of a Corporate Takeover) Published by Two Harbors Press, the novel in soft cover and also available on Kindle and Nook.
Contact: Patricia O'Brien, St. Bernard Public Relations (818) 986-7777 The Holiday Party (A Tale of a Corporate Takeover)