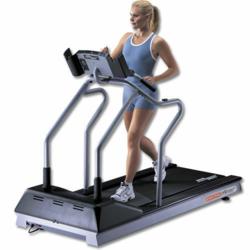 For those interested in losing weight, the biggest mistake I see people make at the gym is doing very long sessions on the treadmill
Alexandria, MN (PRWEB) April 10, 2013
Weight loss expert Mike Nelson, an adjunct professor and member of the American College of Sports Medicine, will be a featured speaker at the Leading Training & Fitness Conference, April 13th at the Alexandria Technical & Community College in Alexandria, Minnesota (http://www.miketnelson.com/fitness_conference).
Nelson, who recently addressed the 2013 Arnold Sports Festival, will be discussing Metabolic Flexibility, which he describes as the ability to use the right fuel at the right time to lose weight and reach your fitness goals.
"For those interested in losing weight, the biggest mistake I see people make at the gym is doing very long sessions on the treadmill," said Nelson, who holds a Masters Degree in Mechanical Engineering (Biomechanics). "When in reality…they just are not training with the necessary intensity to really burn fat once they stepped off the treadmill."
According to Nelson, whose research has been published in scientific journals, "The secret to losing weight, and building lean muscle mass, is doing high intensity workouts or weight training sessions. A high intensity workout not only uses up the body's carbs, it continues to burn stored fat for hours afterwards. A high intensity workout, combined with the proper diet, is the fastest way to lose weight through Metabolic Flexibility."
Nelson says there are three things people interested in faster weight loss can do to enhance their Metabolic Flexibility and lose pounds.
1. "People need to eat more protein," he says. "In the neighborhood of 0.75 grams for every pound of body weight should do it. Studies have shown that replacing carbs with protein leads to lean muscle mass and less fat… something most people are seeking."
2. "People should vary their diet. Variety is the spice of life, especially when it comes to weight loss and attaining Metabolic Flexibility. For lunch, lower your carb intake by eating things like mixed salad with grilled chicken breast and olive oil."
3. "Before you work out (whatever time that is), eat more carbs, such as sweet potatoes or fruit, along with some grilled fish. After your workout, consume 40 grams of whey protein. Then eat 2 hamburgers (no bun), steamed spinach and avocado."
Nelson says it's very helpful for people trying to lose weight and gain lean muscle mass to keep a log of everything they eat for three days. "Most people who think they're doing a pretty good job with their diet are shocked by the number of things they eat that are actually sabotaging their weight loss goals.
"Above all," adds http://MikeTNelson.com, "Enjoy life, and simply try to keep the carb and protein timing in mind. Try to mix up your diet so it doesn't get boring, and you'll find yourself losing weight faster and getting into the best shape of your life through Metabolic Flexibility."
For more information on upcoming speaking engagements and losing weight, go to http://MikeTNelson.com.