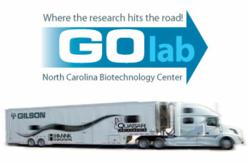 ...great opportunity for researchers to see Gilson products in action from the convenience of their institution.
Vernon Hills, IL (PRWEB) April 10, 2013
Daigger, a leader in laboratory supply and equipment distribution, is excited to announce that they will be joining Gilson, an industry leader in purification systems for HPLC, SPE and GPC cleanup, on the GOlab tour at the North Carolina Biotechnology Center in Research Triangle Park on April 16th and 17th.
The GOlab mobile laboratory is traveling the country to connect educators, researchers and students to the latest innovations. The mobile lab allows "hands-on" demonstrations of the latest technologies from Gilson, Hanna Instruments and Quasar Instruments.
"At Gilson, we understand that budgets are limited and time is a priority, so we saw the GOlab mobile laboratory as a great opportunity for researchers to see Gilson products in action from the convenience of their institution. From PIPETMAN® to compact HPLC solutions to seminars, the GOlab provides hands-on demos of the latest innovations," says Mandy Febus, Marketing Communications Manager at Gilson.
On April 16th and 17th from 9:00 am to 6:00pm, Daigger will join Gilson at their Liquid Handling mobile demo lab. Both Daigger and Gilson representatives will be on hand to discuss your lab's liquid handling needs.
"We're excited to connect with researchers on the ground in Research Technology Park. The GOlab truck, plus the seminars conducted by Gilson, offers a great opportunity for researchers to learn about the latest technologies and techniques in liquid handling. I'm glad that our partnership with Gilson has provided this opportunity," said John Halpin, Director of Marketing for Daigger.
For more details about the North Carolina Biotechnology stop on April 16th and 17th, download the pdf or go to http://www.Daigger.com.
About Daigger
Daigger has been a leading global distributor of laboratory equipment and supplies since 1894. As a family-owned business, Daigger has thrived on providing personalized service and high quality products to the scientific community over three generations. Its experience will help ensure your laboratory's success. Daigger is designated a small business and GSA contract holder.
To learn more about Daigger, visit http://www.Daigger.com.
About Gilson
Gilson, Inc. provides high quality, dependable solutions for today's demanding liquid chromatography, solid phase extraction, manual liquid handling and gel permeation chromatography clean-up requirements. Gilson has worldwide sales and service supporting the pharmaceutical, biotech, environmental, clinical, food & beverage and forensic markets. Gilson's innovative products revolutionize the lab; providing the durability, flexibility, modularity and ease-of-use the industry has come to expect from Gilson.
For more information about Gilson, Inc. products or services, visit http://www.gilson.com.