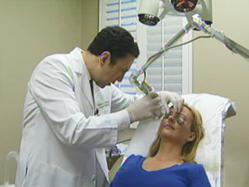 Los Angeles, California (PRWEB) April 09, 2013
At some point in time, the skin loses its bounce and folds begin to set in; it's an inevitable process that comes with aging. According to an article in the spring issue of New Beauty magazine, there are new anti-aging options that one can undergo in order to maintain a youthful look. Advancements in dermal fillers, laser skin resurfacing, and acne treatments continue to make aesthetic medicine safer, less painful, and more effective than ever before. (Go to: goo.gl/FkOdo).
"I like to think that I work on the cutting edge of aesthetic medicine, but in truth I will always wait for sufficient data to be collected before I introduce new devices or products to my patients," says Dr. Simon Ourian, Medical Director of Epione Beverly Hills. "The innovations discussed in the article are interesting but I'm not ready to add them to my practice just yet."
Until now, dermal fillers have only been administered with needle injections. According to the manufacturers of a new device this makes the patient more susceptible to swelling and bruising. Using pressure driven by CO2 this device allows the doctor to easily control the flow of the treatment and more accurately place fillers.
Another new device on the market allows doctors to determine a patients' skin type in order to gauge how they will respond to laser treatment. Armed with that information, lasers can be calibrated to the proper parameters to ensure safe and successful treatments. The device factors in skin tone, melanin levels, and sun exposure to make a determination of skin type and thereby minimizing the risk for complications and improving the efficacy of the treatments.
Finally, a new anti-acne pill is said to eliminate the need for eating fatty foods to improve its absorption by the body. The pill is available by prescription only and is best suited to mitigate symptoms of extreme acne.
"I'm glad to see that the article made note of that the anti-acne pill may have significant side effects," says Dr. Ourian. "It's important for patients to know these risks before they start any drug regimen."
Dr. Ourian has been a pioneer in laser technology and non-invasive aesthetic procedures including Restylane, Juvéderm, Radiesse and Sculptra. These treatments are used for the correction or reversal of a variety of conditions such as acne, acne scars, skin discoloration, wrinkles, stretch marks, varicose veins, cellulite, and others. More information about new anti-aging treatments can be found on Epione's website.