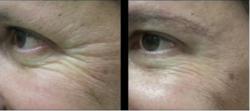 There is an increasing demand for Belotero
Los Angeles, CA (PRWEB) April 10, 2013
FineTouch Dermatology now has the newest dermal filler, Belotero, on its menu of services. Dr. Sanusi Umar, dermatologist and founder of the Redondo Beach practice, has been implementing cosmetic injections and dermal fillers for over 10 years. Treatments he use to reverse the effects of aging include Botox, Dysport, Restylane, Juvederm, and now, Belotero injections. Belotero is a hyaluronic acid filler, similar to Restylane and Juvederm. Since receiving its FDA sanction in 2011, demand for the product has continued to rise.
"There is an increasing demand for Belotero because it is the only hyaluronic acid that can be injected very superficially to treat fine wrinkles," says Dr. Umar. Belotero is synthesized to be the most lightweight of the fillers while retaining a high level of elasticity. This prevents it from clumping under the skin. Furthermore, it typically does not produce the Tyndall effect, which results in a bruise-like bluish tint at the site of injection. The Tyndall effect happens when Juvederm or Restylane are injected too close to the surface of the skin. Read about these hyaluronic acid fillers at http://www.finetouchdermatology.com/different-forms-of-hyaluronic-acid/
A patient of FineTouch Dermatology recently switched from regular Botox treatments to Belotero injections for the first time. Dr. Umar had been injecting Botox to alleviate the crow's feet around this patient's eyes for over two years. The patient reported that with each session, his fine lines in this area grew less responsive to the popular neurotoxin. It was time to try something new, but he did not want treatment with Dysport—another neurotoxin injection—or laser therapy.
Belotero was the ideal choice of hyaluronic acid fillers because of its ability to be injected at a shallow depth, which would better eliminate his crow's feet. By binding naturally to elastin, collagen, and water molecules, the injections provide added tissue volume, skin hydration, and firmness. At two weeks after his injections, the patient's crow's feet were greatly diminished and there was no remaining swelling or bruising.
In the past, FineTouch Dermatology patients desiring anti-wrinkle treatment had neurotxins, laser resurfacing, or facelift as their major options. FineTouch Dermatology now offers Belotero as a non-invasive solution for smoothing out the skin in desired areas. In addition to reversing crow's feet, Dr. Umar uses this filler to treat forehead lines, tear troughs, and nasolabial folds. The results of Belotero last anywhere from 6 to 12 months.