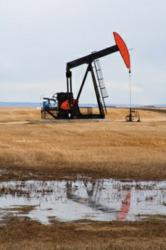 Thieves steal not only tools and machinery parts containing copper, they also endanger their own lives and those of employees at the facilities they target when they steal live copper wire.
YORKTON, SASKATCHEWAN (PRWEB) April 10, 2013
SecurTek reminds owners of oilfield facilities and equipment in Western Canada to protect their assets, following recent media reports of thefts in Alberta and Saskatchewan. With spring melt well underway, access to remote sites will become easier for criminals looking for opportunities.
While the vast majority of thefts on the oil patch are believed to remain unreported, their consequences are far from negligible:
"Thieves steal not only tools and machinery parts containing copper, they also endanger their own lives and those of employees at the facilities they target when they steal live copper wire," explains SecurTek spokesperson Claude-Jean Harel. "Copper wire can fetch two to three dollars a pound with recyclers. If you consider that an average transformer can contain 50 pounds of copper and that anything from ground wire to motors and alternators can become targets, the risks are real."
If total damages caused by theft to the Canadian energy sector are difficult to assess, in the United States copper theft is believed to cost the American economy 1 billion dollars annually. The Federal Bureau of Investigations blames partly emerging markets for copper in developing countries for fueling demand. One only needs to look at replacement costs for stolen parts, down time, environmental clean-up operations, investigative manpower and insurance premiums to understand the value of oilfield theft prevention.
Recent reports describe a pattern where perpetrators work in some organized fashion, suggesting they will likely not be deterred by padlocks and chained gates. When assessing their installation's vulnerability, facility owners might consider security monitoring solutions that are sure to challenge criminals, and even bring their activities to a stop.
Facilities with access to power might consider installing access control systems with programmable access cards and voice or video identification. The latest generation of video monitoring systems can automatically detect unauthorized human activity, and send a 10-second video clip to a facility's owner, allowing monitoring station attendants to immediately dispatch police authorities upon video verification.
Owners of remote facilities that are off the grid can rely on Videofied monitoring, which operates wirelessly through portable video cameras that detect and transmit video reports of illegal activity from places where video monitoring was previously prohibitively expensive to install.
The good news is that security monitoring technology has kept up with thieves' appetite for off-the-beaten path targets. The odds are oil patch operations that do their homework on protection will soon have one less thing to worry about, and everyone -- even thieves -- will be safer in the end.
About SecurTek:
SecurTek is a leading provider of monitoring solutions and event related information services through an extensive dealer network and strategic partnerships, for 70,000 customers across Canada. A subsidiary of SaskTel Telecommunications, SecurTek earned the Five Diamond Certification for providing superior monitoring service in the North American security industry, awarded by the US-based Central Station Alarm Association (CSAA). SecurTek monitoring stations are Underwriters' Laboratories of Canada (ULC) certified, meaning SecurTek meets or exceeds the highest industry standards with regards to call overflow, staffing requirements, response procedures, computer systems and backup power systems.  SecurTek offer burglary, commercial, fire, environmental, medical, video, access control and residential monitoring services.