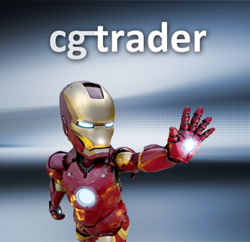 There are lots of amazons in 3D industry, but there was no eBay yet.
(PRWEB) April 11, 2013
The new marketplace includes a complete redesign with many features that help designers buy and sell 3D models for 3D print and design projects. Buyers can now bid on the chosen 3D model and offer their own price, which can then be accepted or rejected by the designer.
"There are lots of amazons in this industry, but there was no eBay yet. Possibility to negotiate the price will attract more buyers, thereby helping designers to increase their sales. We believe this will benefit the whole 3D industry and expand the market," says Marius Kalytis, CEO of CGTrader.com.
CGTrader aims to create an ecosystem for fast growing 3D model and 3D printing market. Differently from other marketplaces, CGTrader allows authors earn over 90% of royalties directly from the buyers and motivates them to sell professional-level designs.
Juan Carlos Jimenez, an experienced seller at CGTrader says that "Lower commissions for the sellers mean better prices for the buyers. On this platform we can offer much better prices to our customers. For example, all our products are priced 20% lower than anywhere else and we still get more profits compared to other stores."
According to CGTrader.com CEO Marius Kalytis, the launch of the new marketplace is just one big step towards company's vision. Future plans of CGTrader.com include expanding the base of 3D models and connecting the 3D design community with the rapidly developing 3D printing technology.
CGTrader was launched in 2011 with a vision to democratize the rapidly growing 3D market. In order to develop the business, in early 2013 it raised 185K Euro from venture capital fund Practica Capital. In March 2013, the company reached the milestone of 10,000 3D models uploaded to CGTrader.com.