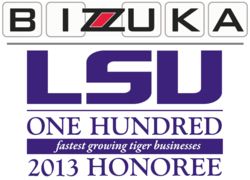 Innovation has gone from a mindset to a policy within our company...
Lafayette, LA (PRWEB) April 16, 2013
Bizzuka, Inc., Louisiana's leading provider of component-based Web design and intranet solutions, will be honored as one of the 2013 LSU 100: Fastest Growing Tiger Businesses during the LSU 100 honoree luncheon to be held Friday, April 26, at the Crowne Plaza Baton Rouge.
Bizzuka has been selected as one of the 2013 LSU 100 honorees based upon its percentage of growth from 2009-2011. The LSU 100 is hosted by the LSU Stephenson Entrepreneurship Institute (SEI), which is housed in the E. J. Ourso College of Business. View the complete list of 2013 honorees.
"Bizzuka is a successful Tiger-led business that we are proud to recognize in the 2013 LSU 100," said Lisa O'Beirne, Director of Development for SEI. "We look forward to their continued growth and involvement with entrepreneurship programs at LSU."
Selection for the 2013 LSU 100 is a competitive process, where companies are individually measured on their compounded annual growth rate from 2009 through 2011 by Postlethwaite & Netterville, the independent accounting firm of the LSU 100.
Additionally, Bizzuka met the following requirements for inclusion in the LSU 100:

Has been in business for five or more years
Has verifiable revenues of $100,000 for 2009
Has a former LSU student as owner of at least 50 percent of the company or as chief executive officer, president or managing partner
Operates in a manner consistent with the missions of LSU and SEI
The company has maintained a healthy pace of growth throughout its tenure in Louisiana, which reached 10 years this February. "We've enjoyed success with OnDeCC, our component-based content management system, but we have to adapt to preserve growth and serve our clients better," said CEO John Munsell. "Innovation has gone from a mindset to a policy within our company, and we're excited to share the results of our efforts in the near future."
###
About Bizzuka
Bizzuka has created OnDeCC, (On Demand Content and Components), a web-based content management system that is a dynamic and robust, yet easy-to-use platform that gives small to medium-sized companies affordable access to the sophisticated features and capabilities of systems utilized by Fortune 500 companies. The product is offered as Software-as-a-Service (SaaS), whereby software updates and upgrades are instantaneous and require no installation on the part of the client.
For more information about Bizzuka, please visit the Website: http://www.bizzuka.com, or call 337-216-4423.