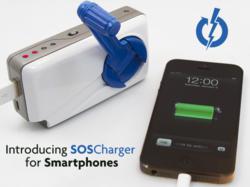 SEATTLE, Washington (PRWEB) April 11, 2013
Since its launch, SOSCharger has exceeded its goal and opened the door to continuing new product development of next generation electronic emergency preparedness products.
"We are elated with the response the SOSCharger has received," said Brian Legge, co-founder of SOSReady. "With over 2,300 backers so far, we have experienced incredible support and built a solid foundation for the unit's product launch that validates our overall market strategy and product road-map." The design convenience and emergency applications of the SOSCharger are really resonating positively with Kickstarter members. "We've received so much positive feedback from the community. It's been an incredible experience and exciting for the entire SOSReady team," Legge added. Kickstarter is one the most popular crowd-funding sites and the SOSCharger is experiencing tremendous response. The SOSCharger campaign has raised over $90,000 in only 30 days with 14 days remaining until the end of the offer. The project can be viewed at: http://kck.st/15F9T88
SOSCharger for Smartphones is one of the most innovative mobile-phone personal generator and battery-recharging devices available in the market. It includes a powerful 1,500mAh internal battery that can be pre-charged using any USB-powered source device. Once charged, the internal battery can act as a power-booster for any mobile phone, including all of Apple's popular iPhone models. If the internal battery is depleted, and external power is not available to recharge, simply wind the handle to generate more power. The small size easily fits in a pocket and the ergonomic shape makes it easy to grip while winding the generator.
The SOSCharger for Smartphones project has enjoyed positive responses from various media outlets, including Mashable, iMore, CNet, AOL, Gizmag and Geekwire. Chris Pirillo's popular YouTube channel, Lockergnome, featured a preview at Pirillo's upcoming VloggerFair (http://www.vloggerfair.com).
SOSReady is a technology innovator of emergency preparedness products, survival gear and supplier of industry leading design solutions. SOSCharger is a pocket size, self-powered mobile phone charging device, designed for use with smartphones and other USB-standard devices.