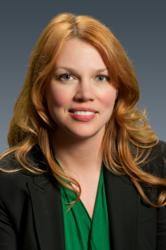 Bellevue, WA (PRWEB) April 11, 2013
Applied Discovery®, a worldwide leader in professional discovery services including multinational collection, early case assessment (ECA), processing, hosting, production, and managed review, today announced the promotions of Kelli M. Clark, Esq. to President and Al McNee to President of M&A Strategy.
As a six-year veteran of Applied Discovery, with more than 12 years in the legal and e-discovery industry, Clark is responsible for continuing the company's long history of delivering world-class services and solutions. She has most recently been focused on building out a team of subject matter experts to work alongside the project management team to provide an extra layer of support and expertise on every project. She will also focus on expanding Applied Discovery's work product repository and data categorization offerings in order to create even greater efficiencies for clients.
"Kelli has been a recognized leader in client services and product initiatives at Applied Discovery, driving process improvement and implementation of custom solutions both externally and across internal departments. Delighting our clients is the core of our company vision. Kelli's long history overseeing world-class solutions teams aligns perfectly with our overall company goals. Applied Discovery has long been known for having the best service in the industry, but we will continue to widen the gap between us and our competitors," said Michael Seedman, CEO of Applied Discovery. "Al will be shifting his focus away from the day to day operations in order to assist the company with strategic growth, which is also a critical part of our overall plan for the company."
Most recently, Clark served as Vice President of Services and Solutions at Applied Discovery, where she oversaw the client services, product management, partner relations and managed review organizations. During this time, she led the company's initiative to create a robust and highly customized offering of kCura's Relativity e-discovery software. This amplified offering of Relativity has resulted in satisfied clients and successful projects, including large multi-district litigations, and HSR Second Requests.
Clark played a key role in building out Applied Discovery's managed review offering and facility in Charlotte, N.C. which has also received high marks for client satisfaction. Part of that offering integrates technology assisted review and data categorization which she has also had a hand in expanding while at Applied Discovery, including hiring a deeply experienced e-discovery professional and pioneer in assisted review to oversee the offering and associated consulting.
Clark is an industry veteran who has overseen hundreds of large-scale e-discovery projects and managed client-services, consulting, and technical teams during eight years at e-discovery service providers, including a prior stint at Applied Discovery. She also spent time as an associate at Cooper, White and Cooper LLP in San Francisco and in the e-discovery practice group at Preston, Gates and Ellis LLP in Seattle.
Clark has spoken on e-discovery topics at CLE courses and seminars throughout the United States and Europe, and has been called upon to provide expert testimony regarding e-discovery procedures and best practices. She is also a guest lecturer in the E-Discovery Management Program at the University of Washington. A member of the Washington State Bar Association, Clark received her JD from Cornell Law School and her BA from the University of Iowa.
McNee has a long career in the e-discovery industry and prior to joining Applied Discovery, spent several years in various roles at Integreon, a provider of legal process outsourcing
services. Prior to that, he spent twenty years building Merrill Corporation's multimillion-dollar legal business in various positions, the last ten as its division president.
About Applied Discovery
Applied Discovery (http://www.applieddiscovery.com) is a worldwide electronic discovery leader offering multinational collection, early case assessment (ECA), processing, hosting, production, and managed review services for law firms, corporations, and government agencies. Founded in 1998, Applied Discovery is based in Bellevue, WA, with East Coast headquarters in New York City and regional offices in Washington, DC, Chicago, San Francisco, Los Angeles, Dallas, Atlanta, Houston, and Austin.
###
Media Contact:
Tamara Korblick
Director, Human Resources Applied Discovery
tamara.korblick (at) applieddiscovery.com
425.467.4572