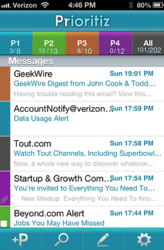 "With our color-coding, 'Stickies' and 'Prioriti Tabs', I can quickly tell you, in one glance, what we call the 'Prioriti' in my e-mail, including items and people I've ranked highest in value. I don't NEED Inbox Zero!"
Sammamish, Washington (PRWEB) April 11, 2013
Prioritiz, Inc., announced, today, their new iPhone e-mail reading application, called Prioritiz, which dramatically changes the way email is sorted, viewed and monitored. Prioritiz makes e-mail what it's intended to be: timely communication with context that's not overwhelming. Unlike automated services, Prioritiz empowers the user to keep the "Prioriti" of their e-mail as current as their rapidly changing lives and events - all in a snapshot view.
"Like many people, I'm completely frustrated by e-mail on my phone which is where I see the majority of my messages," said Scott Yoneyama, Founder of Prioritiz. "Our new Prioritiz application is a better option for anyone who wants true control over their email, especially when on the go. Other products only delay a message or clean out my inbox. I store critical personal and business information in my email and an automated service can't accurately identify what's truly important to me."
How Does Prioritiz Work?
"With our color-coding, 'Stickies' and 'Prioriti Tabs', I can quickly tell you, in one glance, what we call the 'Prioriti' in my e-mail, including items and people I've ranked highest in value. I don't NEED Inbox Zero!"
After a few swipes and taps in the inbox, Prioritiz presents a color-coded view of all messages by Prioriti. Users will also be able to quickly look at their messages just by the Prioriti tab into which they've been sorted, from P1 to P4.

If a user gets an e-mail from their wife they can drag her message into the P1 tab and set her contact as the sorting key… .and set the expiration to "Never."
If they get a message about their son's basketball team the can drag it into the P2 tab and set the keyword "basketball" as the Prioriti until the end of the season.
If the user gets a LinkedIn message they may want to set the domain, "Linkedin.com" as a P4 with an expiration of "Never."
If a user gets a message from an important executive from a target client company they can set a P2 or P1 on their specific e-mail address for 2 weeks or until the end of the sales quarter.
What about those random messages users want to read later or keep as reference? Don't stick a meaningless flag on them. Sticky a specific message to the top of a specific Prioriti box until a set date. A Flag says something needs attention. A Sticky says how much attention and when it no longer matters.
Lastly, we give users a setting to deprecate the Prioriti of a message if someone cc's or bcc's users on an e-mail trail.
"We spend every day thinking deeply about the relationships between people, their communications and the context of what, where, when and why," said Yoneyama. "This is the first step in our company's vision to provide straightforward and simple ways to manage importance. "
To download Prioritiz , go to: http://www.prioritiz.com and follow the link to the app store. Prioritiz is available in the Apple App Store for iPhone, iPad and iPod.
About Prioritiz:
Prioritiz was founded in 2011 by Scott Yoneyama, a veteran entrepreneur and collaborator on numerous mobile applications with national and international media companies. Prioritiz was created to help busy people focus on and easily address what is important to them.