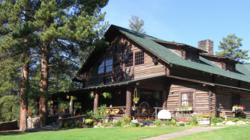 "Seriously, the grand old lodge is the heart of Rainbow Trout Ranch." Dick Robinson, Rainbow Trout Ranch guest
Antonito, CO (PRWEB) April 22, 2013
For eighty five years, the massive lodge at Rainbow Trout Ranch, a dude ranch in southern Colorado, has provided a gathering place for visitors to the spectacular Conejos River Canyon. At 18,000 square feet, the lodge is one of the largest log buildings in the west. It was built entirely of spruce logs hauled by draft horse teams, and using only square pegs in the construction which was fully completed in 1928.
In the eight-five years since, cables and spikes have been added to reinforce the structure but it remains largely unchanged. Known until 1993 as the Rainbow Trout Lodge, the property was purchased in 1993 by the Van Berkum family who restructured it into a full-fledged guest ranch and renamed it the Rainbow Trout Ranch.
Guests from all over the United States and overseas come to the ranch for a western experience, and there is no denying that the lodge is the heart of the ranch. There are sixteen guest cabins but the gathering place for dining, relaxing, socializing, dancing and more is the grand old lodge.
The lodge is in the process of being named to the National Historic Register.
About Rainbow Trout Ranch
Rainbow Trout Ranch is a family owned dude ranch in excellent standing with both the state and national dude ranching associations, and exclusively five star reviews on Trip Advisor. The ranch has a long tradition of providing superb western hospitality for families, couples, groups and singles looking for an adventure vacation in the Rocky Mountains of southern Colorado. Inquiries can be made to 800.633.3397 or the website.