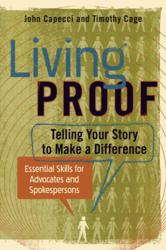 (PRWEB) April 18, 2013
The authors of "Living Proof: Telling Your Story to Make a Difference," a comprehensive guide to using personal stories for advocacy published by Granville Circle Press, are featuring the work of FocusDriven.org, Advocates for Cell-Free Driving, throughout the month of April. April is Distracted Driving Awareness Month.
According to "Living Proof" co-author, John Capecci, FocusDriven is an organization that understands the power of personal stories to help spark changes in attitudes, beliefs and behaviors. "Their advocates and spokespersons go public with often devastating experiences related to distracted driving," says Capecci, "because they know that they can help make our roads safer for everyone." On April 28 and 29, Capecci will attend the Advocates for Safe Roads Workshop, an event co-sponsored by FocusDriven and the National Safety Council's HEARTS Network. During the workshop, FocusDriven's advocates—individuals and families personally touched by cell phone distracted driving—will hone their advocacy skills using techniques Capecci and his co-author Timothy Cage outline in "Living Proof."
"Very often it is the story of one person--what he or she has seen, experienced, learned or lost--that ultimately makes a message stick," says Cage. "With our personal stories we move people from apathy to empathy to action."
"We all have a story to tell and a passion that drives us to do what we do," said Rob Reynolds, executive director at FocusDriven. "Living Proof explains how advocates can craft their stories comfortably and in a way that will resonate with audiences."
FocusDriven shares the stories of victims of cell phone distracted driving through their Survivor Advocate Network, in a video gallery of victims' families and on an interactive map that shows incidents of distracted driving accidents in the U.S.
To learn more, visit livingproofadvocacy.com and focusdriven.org.
About FocusDriven
FocusDriven, Advocates for Cell-Free Driving, is a nonprofit advocacy organization for victims of motor vehicle crashes involving drivers using cell phones. FocusDriven supports victims of cell phone distracted driving and families of victims. FocusDriven works to increase public awareness on the dangers of cell phone distracted driving by putting a human face on the disastrous impact of the behavior, in order to promote corresponding public policies, programs and personal responsibility.
About "Living Proof"
"Living Proof: Telling Your Story to Make a Difference" is distributed nationally by Itasca Books ($21.95, softcover, 212 pages, 6" x 9". ISBN 978-0-9838703-0-2 Granville Circle Press). It is available at independent booksellers, major online bookstores and directly from Itasca Books. Quantity discounts available.