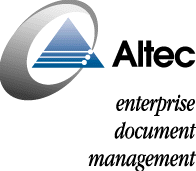 Laguna Hills, CA (PRWEB) April 19, 2013
Altec Products, Inc., a leading provider of integrated document management and workflow solutions, announced today their participation at the ITA Spring Collaborative being held at the Renaissance Vinoy Resort in St Petersburg, FL from April 27 – 30, 2013.
ITA is an independent, membership association of top mid-market technology professionals, consultants, and product/service providers in North America. Their primary goal is to create a community where members share information, build relationships and gather the knowledge they, and their clients, need to move business ahead, and stay abreast of the latest strategies and technologies.
President of ITA Stan Mork shares, "ITA is a place where independent thinking and alternative points of view are openly promoted and respected. Our members believe and practice the ITA motto –'Knowledge Increases in Value When Shared' – through active networking, surveys, newsletters and bi-annual events."
As a three-year ITA member, Altec is the expert in the design and delivery of electronic document solutions ranging from simple document intensive processes to complex restructuring of internal data processing. Their premier solution, doc-link, provides seamless capabilities to electronically capture documents and automate business processes within any department and any process. Combining best practices, state-of-the-art technology, and sound implementation methods into an affordable package has made doc-link a leading solution in the mid-marketplace.
Kevin Dudevoir, Director of Sales for Altec says, "Our business focus is to increase the partners' value to their clients. The ITA Collaborative event gives us a relaxed, but creative environment to meet with ITA members and hear challenges building and running a successful ERP consulting business. We are passionate about sharing how document management solutions can save time, resources and increase efficiencies for their clients."
As one example, Altec customer AMMEX Corporation is a leading wholesaler of industrial products to more than 10,000 global customers. They use doc-link to automate and streamline their labor intensive accounting and manual sales order process with exponentially increased accuracy. Not only are orders processed 50 percent faster, but they also require half the staff needed to complete.
"Our order processing is more efficient than it ever was," says Chris Van Vladricken, CIO of AMMEX. "Our daily order volume that once took until 6 pm to process is now completed much earlier in the day. doc-link has put us in the position of being able to increase our order volume without increasing staff. That equates to a savings of roughly $250,000 in payroll for additional employees."
He added, "I would encourage anyone who wants to streamline their processes to take a look at doc-link. They will be amazed at how much improvement comes from opening that door."
About Altec
Altec is a leading provider of Integrated Document Management (IDM) solutions to mid-market companies. For more than 25 years, Altec has provided a wide range of accounting-centric paper to paperless solutions including its flagship product, doc-link™, which enables companies to capture, archive, workflow and route structured and unstructured documents to customers, employees and vendors. Altec's comprehensive solutions include IDM, output management, MICR check disbursement and paper documents that serve more than 13,000 customers worldwide. Altec enjoys strong, collaborative partnerships with ERP solution providers like Microsoft Dynamics and Sage Software to provide the most comprehensive, integrated enterprise document management solution. Altec delivers its IDM solutions through a global network of authorized partners in more than 60 countries throughout the Americas, EMEA and Asia Pacific. For more information, visit Altec at the company website at http://www.altec-inc.com. Follow them on Twitter.com/doclinkbyAltec or call April Blankenship at 1-800-997-9921. ###