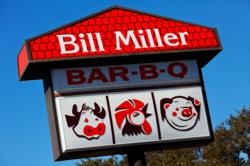 "Dad always believed in offering a price that everyone could afford and strived to give good service and the best quality." -Balous Miller, Bill Miller Bar-B-Q CEO
San Antonio, Texas (PRWEB) April 18, 2013
May is National Barbecue Month and in celebration, San Antonio, Texas based restaurant chain, Bill Miller Bar-B-Q, is revealing statistics that are nothing short of astounding.
During 2012 alone, Bill Miller Bar-B-Q can boast serving barbecue in numbers as big as Texas:

Beef 5,895,800 lbs. (1 million briskets)
Sausage 1,339,500 lbs. (4 million links)
Chicken 926,000 whole chickens = 2.9 million lbs.
This is not to mention 1,344,000 lbs. of potato salad and 3,788,000 gallons of their famous iced tea. (That's over 30 million quarts!)
It is believed that the term barbecue comes from the Spanish word, "barbacoa" and dates back to when the Spaniards landed in the Caribbean, giving the name to the natives' method of slow-cooking meat on a wooden platform.
By the 20th century, barbecue restaurants were springing up in states across the country, with styles of cooking indigenous to each region. Texas became known for mesquite-grilled brisket.
In 1950, on a $500 loan from his father, San Antonio businessman, Bill Miller opened a small poultry and egg business. Three years later Bill Miller Bar-B-Q began as a small fried chicken-to-go restaurant. Fried chicken led to hamburgers and then to barbecue. The second restaurant opened in February of 1963. Today, Bill Miller Bar-B-Q restaurants are operated by the late Bill Miller's sons and daughter: Balous, John, Doug, and Vivian.
What began as a small family business has grown to one of the most successful restaurant chains in the Lone Star State, boasting 68 locations in San Antonio, Austin and Corpus Christi.
CEO Balous Miller, shares, "My dad was the first person in San Antonio to offer food-to-go and the first to guarantee 5 minute service." On the secret to Bill Miller's success, the younger Miller says, "Dad always believed in offering a price that everyone could afford and strove to give good service and the best quality."
Bill Miller designed the original barbecue pits he used in the 1950 's and the large industrial sized ones used today -- that will cook up to 2,500 pounds of brisket at one time in 18 to 20 hours. All Bill Miller barbecue is cooked with 100% Hill Country live oak wood in a brick pit. Natural gas or electric heat is never used in the barbecue process, only wood, heat and smoke.
For over 50 years, millions of Texans and visitors from around the world have made Bill Miller Bar-B-Q a Texas tradition.
For more information about Bill Miller Bar-B-Q Restaurants visit BillMillerBBQ.com