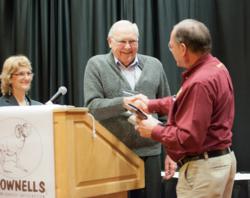 I was totally taken aback by this award. I love the incredibly beautiful, functional guns the folks in the Guild build.
Montezuma, IA (PRWEB) April 16, 2013
Frank Brownell, longtime President and now Chairman of the Board of the famed Brownells, Inc., was recognized for his dedication and support of the custom gunmaking industry by the American Custom Gunmakers Guild (ACGG) on Thursday, March 28, 2013, during the Brownells 7th Annual Gunsmith Conference & Career Fair.
Guild members and close personal friends Sharon Dressel and Jerry Fisher, on hand for the event, surprised Brownell by presenting him with an Honorary Life Membership to the American Custom Gunmakers Guild.
"I was totally taken aback by this award," said Brownell. "I love the incredibly beautiful, functional guns the folks in the Guild build. Their craftsmanship is simply superb, and having spent my entire life admiring fine guns, for me it is a genuine joy to get to know many of the makers personally. Their passion is creating these amazing works of art so the rest of us who can't begin to do this quality of work can enjoy what they have created. I am deeply honored, and thank them all so very much."
Brownell is the first and only non-craftsman to receive the prestigious award, according to the President of the ACGG, Michael Ullman.
"Frank's support for the custom gunmaker, the trade and the ACGG has been unwavering for years," said Ullman. "He isn't just concerned about giving his time to the gunmakers who have already made a name for themselves, but he's known for freely giving of his time to help out the aspiring gunmaker. The ACGG is truly thankful for the kindness and support."
About the American Custom Gunmakers Guild
Founded in 1983, The American Custom Gunmakers Guild (ACGG) is a group of firearm artisans and enthusiasts tied together by their love of custom built firearms crafted out of wood and metal, which are often embellished with fine engraving. They are the leading authority around the world in custom firearms and offer support and education to both current and aspiring gunmakers. To learn more about the ACGG and becoming a member, visit their website at http://www.ACGG.org.
About Brownells
Founded in 1939, Brownells is an Iowa-based, family-owned company that supplies more than 75,000 firearms parts, accessories, reloading components, gunsmithing tools, and ammunition to armorers, gunsmiths, the military, and shooters worldwide. In addition to their industry-leading 100% lifetime guarantee – forever – on EVERY product sold, their staff of veteran Gun Techs is available to assist customers with technical help to fix any gun-related problem – free of charge. There are no minimum order sizes or return/exchange fees. To place an order, or for more information, call 800-741-0015 or visit http://www.brownells.com.