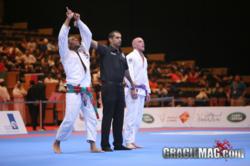 It's the most money I've ever made in my life
Abu Dhabi, UAE (PRWEB) April 18, 2013
April 11-13th marked the 2013 World Pro Jiu Jitsu Championships (WPJJC) and athletes representing over 50 countries met to compete for the World title. The WPJJC, the only World Jiu-Jitsu tournament to pay the medalists was host to hundred of athletes vying for the prize money.
Tim Spriggs, of Team Lloyd Irvin, would emerge the victor of Men's Purple belt Heavyweight division. Tim had to defeat three opponents on the way to the finals. In the final match, Tim leapt ahead on points, throwing his opponent and taking his back in the first thirty seconds on the match. Tim would control the back for several more minutes before finishing his opponent with a rear-naked choke.
Tim Spriggs brought home the $6000 first place prize money, saying, "it's the most money I've made in my life."
Other members from Team Lloyd Irvin also fought at the WPJJC. Black belts, DJ Jackson and Nyjah Easton, would not see the medal stand, but both had technical hard-fought matches. Sijara Eubanks, brown belt, would place third, winning $1000 in the female purple/brown/black heavyweight division.