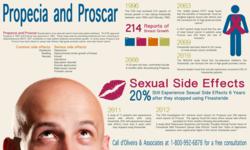 (PRWEB) April 19, 2013
Propecia and Proscar are both pills that contain the drug "Finasteride," a component that is used in treating men with male pattern baldness. According to Merck's product website, this drug works by preventing testosterone from converting to dihydrotestorone (DHT). DHT contributes to male pattern baldness and prostate growth (i).
Proscar and Propecia, approved by the FDA in 1992 and 1997 respectively, were quickly put on sale by Merck to an eager market. Since the approval of these two drugs, the FDA has added new warnings to the Propecia and Proscar labels and in June of 2011, the FDA revised the information to include a possible increased risk of high-grade prostate cancer. The FDA based its decision on two medical studies, the Prostate Cancer Prevention Trial (PCPT) and Reduction by Dutasteride of Prostate Cancer Events (REDUCE) (ii). Additional changes were made in April of 2012 to Propecia and Proscar when the FDA added warnings of lasting sexual side effects even after discontinuation of the drugs. After the FDA investigated 421 adverse event reports for Propecia and 199 reports for Proscar, the agency found 59 cases where sexual side effects had persisted for three months following discontinuation (iii).
The Propecia and Proscar infographic lists possible side effects that have been associated with these drugs. Those side effects allegedly include: depression, male breast cancer, prostate cancer, and long-term sexual side effects. These side effects have been exhibited by some patients in various medical studies, for example, in 2011 the Journal of Sexual Medicine published a study of 71 patients who experienced sexual side effects after using finasteride. Of these patients, 20% still experienced these sexual symptoms more than 6 years after they stopped using finasteride (iv). To learn more visit the Propecia and Proscar webpage and view the infographic: Propecia and Proscar Infographic.
If you or a loved one has suffered side effects from Propecia or Proscar, you may want to speak with a personal injury lawyer regarding a potential claim. A Propecia lawyer familiar with new developments in the litigation of these drugs may be able to help you make important personal and legal decisions. d'Oliveira & Associates, P.C. is working with some of the more experienced dangerous drug attorneys in the country who are handling these cases. Please contact the law offices of d'Oliveira & Associates, P.C. at 1-800-992-6878 or fill out a contact form for a free legal consultation.
Sources:
(i) http://www.propecia.com/finasteride/propecia/consumer/about_propecia/about_propecia.jsp?WT.svl=2
(ii) http://www.fda.gov/Drugs/DrugSafety/ucm258314.htm
(iii) http://www.fda.gov/drugs/drugsafety/informationbydrugclass/ucm299754.htm
(iv) http://onlinelibrary.wiley.com/doi/10.1111/j.1743-6109.2010.02157.x/full