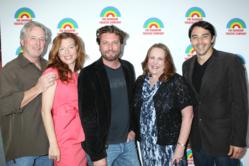 My mother is a survivor of ovarian cancer and our family was lucky to have a strong support network during our crisis. - Tanna Frederick, star of The Rainmaker
Santa Monica, CA (PRWEB) April 18, 2013
Film and stage actress Tanna Frederick along with her co-stars of The Rainmaker, have donated the proceeds of their Saturday, April 13th performance at the Edgemar Theater in Santa Monica to non-profit organization Here to Serve. Here to Serve is a local organization which provides assistance to families who have a child with a life-threatening health crisis.
"My mother is a survivor of ovarian cancer and our family was lucky to have a strong support network during our crisis," said Tanna Frederick, star of The Rainmaker. "Here to Serve's mission is to help families create the care communities my family had, and I'm so honored to be involved with such an amazing organization."
Saturday's performance has raised much needed funds for the families supported by Here to Serve. The non-profit will use the funds to create communities of support for these families in medical crises by providing assistance with day-to-day activities such as meals, child care, laundry, transportation, counseling and financial assistance.
"We are so humbled and honored to have Tanna Frederick and the cast of The Rainmaker raise money for our organization," said Katie Quintas, founder and CEO of Here to Serve. "With Tanna's fundraising efforts we can provide even more services and resources to families navigating the critical health crisis of their child."
ABOUT HERE TO SERVE
Here to Serve, a 501 c(3) charity dedicated to collaboration and cooperation with the community and other non-profit organizations, provides caregivers and their families the non-medical assistance they need when going through a life-threatening health crisis with a loved one. Inspired by the medical trials in her own family, founder Kathleen Quintas started Here to Serve in 2011 to mobilize volunteers and organizations to provide targeted care to families caring for a critically ill loved one. Here to Serve identifies and targets organizations, from a database of thousands, to help families in medical crises. For more information visit http://www.heretoserve.org.
###
Contact:
Rona Menashe
Guttman Associates
romenashe(at)aol(dot)com
310-246-4600