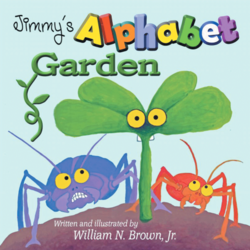 (The book) features a colorful cast of characters from A to Z, who bounce and sway on their vines to get his attention.
CHARLOTTE, N.C. –
(PRWEB) April 18, 2013 -- Planting a garden leads to an imaginative adventure for a boy named Jimmy. This new children's book follows Jimmy's dream about his garden, where he discovers he's not growing ordinary vegetables fit for a salad but magical ones that can sing, talk and teach him rules. By spelling words correctly, Jimmy's special requests are granted.
"Jimmy's Alphabet Garden" features a colorful cast of characters from A to Z, who bounce and sway on their vines to get his attention. The special vegetables grow only for him, and when he spells out words correctly, they transform his word into reality – as long as he follows the rules for consonants and vowels. A dog, pile of candy and new bike appear like magic in this unforgettable, interactive garden. When Jimmy wakes up in the morning, he runs outside to check out his garden to see if his dream came true. Although the garden contains only a few green plants, he soon receives a welcome surprise.
Colorful, cartoon-like drawings by the author draw readers in to this book designed for reading aloud. This is the first book for author and illustrator William Brown Jr., who has been interested in art since the age of 9, when a local newspaper printed his drawing. The professional artist hopes to create more children's books.
----------
For additional information, please visit http://www.alphabetgardenbook.com.
Jimmy's Alphabet Garden
William Brown Jr.
Dog Ear Publishing
ISBN: 978-1-4575-1797-6 32 pages $13.50 US
Available at Ingram, Amazon.com, Barnes & Noble and fine bookstores everywhere.
About Dog Ear Publishing, LLC
Dog Ear Publishing offers completely customized self-publishing services for independent authors. We provide cost-effective, fast, and highly profitable services to publish and distribute independently published books. Our book publishing and distribution services reach worldwide. Dog Ear authors retain all rights and complete creative control throughout the entire self-publishing process. Self-publishing services are available globally at http://www.dogearpublishing.net and from our offices in Indianapolis.
Dog Ear Publishing – self-publishing that actually makes sense.