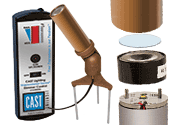 An outside-the-box solution that leverages the potential of LED technology.
Hawthorne, NJ (PRWEB) April 18, 2013
CAST Lighting announced today the introduction of a new line of low voltage LED landscape luminaires at this year's LightFair. This new line, the Impressionist Series, introduces a number of features meant to provide new levels of flexibility and control for the lighting designer. They include 20-step light level adjustment, (5) beam spread options, flexible glare control, color options, and precision aiming and mounting features.
The Impressionist line also includes advanced LED circuitry with robust thermal management designed to protect and preserve LED performance for the life of the luminaire.
David Beausoleil, CAST Lighting president and founder, describes the evolution of the new product line, "It's astonishing to watch the entire landscape lighting industry going in the wrong direction - trying to make LED versions of incandescent lamps. The Impressionist Series goes in the right direction – fully integrating the LED light source, driver circuitry, fixture body, mounting hardware, and optical elements to create a multi-featured professional tool for the lighting designer. We call the new line, "Impressionist" because it enables the designer to express his or her artistry – to precisely control the brightness, the coverage, the color, the positioning – all the factors that designers use to create artistic scenes of illumination."
CAST Lighting generated considerable attention at last year's LightFair by winning the event's highest award, "Most Innovative Product of the Year", for its LED Perimeter Lighting System. That system went on to win 6 more awards from architectural, lighting, and security organizations. It was described by one of the LightFair judges as being "…a simple, clean, efficient, energy-effective solution which could be used on nearly every property." The same could be said for the company's new Impressionist Series luminaires – an outside-the-box solution that leverages the potential of LED technology.
Steve Parrott, Communication and Marketing Director, further describes the new developments, "Our move toward designer-oriented landscape lights represents a commitment to both the profession and artistry of landscape lighting design. It's easy to outsource luminaire R & D to Asia – not so easy to undertake a collaborative process involving state-side engineers and leading lighting designers – but that's exactly what we've done. The better designers know what we're doing and appreciate the flexibility, control, and quality they get with CAST products."
At LightFair, CAST Lighting will be demonstrating all luminaires in the Impressionist Line. They include an LED Directional Light (CID140), an LED Directional Area Light (CIDA140), an LED Tree Light (CIT164), and an LED Wall Wash (CIWL6). Each of these lights can be dimmed at the fixture, and the directional versions have multiple optics and color options.
Impressionist lights also feature a wide input voltage range (10-24 volts AC/DC) that allow more than twice as many fixtures per wire than other lights with smaller ranges. They are also protected from electrical issues such as spikes and surges, have thermal foldback to prevent overheating, and will not cause interference with wireless devices.
About the Company
CAST Lighting manufactures extremely durable and robust low voltage outdoor lighting systems for the security and landscape lighting industries. With facilities in the United States and Colombia, and a world-wide network of distributors and lighting agencies, CAST Lighting products are installed in residential, commercial, and municipal properties of all types. For more information, go to http://www.cast-lighting.com or contact at info(at)cast-lighting(dot)com or 973-423-2303.