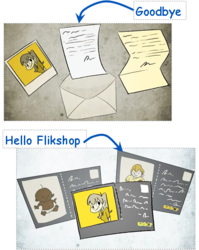 "Supporting my loved one is as important as breathing" K. McCollough, Customer
Lanham, MD (PRWEB) April 23, 2013
Flikshop, mobile app and website, has created the latest form of communication for prison inmates in federal and state correctional facilities. Inmates across the country are receiving pictures from their friends…and from where else? Their smartphones. Now Oregon and Nevada inmates are excited to receive Flikshop postcards.
Mobile apps have shown to be the wave of the future for increasing productivity, game play, and social networking. Apps have taken the way that friends have communicated with one another in the past to a more immediate call and response that most generations are flocking toward. "Facebook, Twitter and Instagram have changed the way that we view messaging," says Marcus Bullock, CEO of Flikshop. "These apps make snail-mail a thing of the past, so very few people make the time to write a real letter to these guys."
Correctional facilities and inmates seem to really enjoy the convenience of Flikshop. The app has high ratings in both the iTunes App Store and Google Play Store. "Flikshop makes it easy for us to sort through mail, and its definitely more secure than actual letters in envelopes. They send the postcards directly to us to give to the inmates so we don't have to worry about contraband coming into the facility. We know how much support means to these guys." says mail operator at Greensville Correctional Center in Jarratt, Virginia. Flikshop customers agree. "Supporting my loved one is as important as breathing," says Kim McCollough, Flikshop user. "My biggest fear is that he won't find the right people to give him a chance to show what he is truly capable of."
What's next for Flikshop? Bullock, states that he really wants to focus on real recidivism prevention and decreasing juvenile incarceration rates. Flikshop has created an initiative, Bring In The Community, that partners with local juvenile facilities to bring himself and other successful professionals into the facilities. They speak to the young offenders about career options that most underprivileged youth are not typically exposed to in their communities.
One thing is for sure…prison inmates in Federal, State, local jails, and juvenile facilities are waiting for "mail call" all over the country. No more digital cameras or taking the time to sit down and write a letter. There's an app for that, and its called Flikshop!