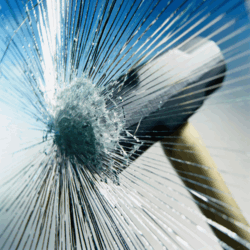 For decades, terrorists and extremist groups have known that explosive devices and unprotected glass form a lethal combination.
(PRWEB) April 23, 2013
As the nation mourns the recent tragedy in Boston, Jordan Frankel, also known as the Security Sensei, is offering sage advice for preventing some of the injuries caused by explosive devices and unprotected glass. He says the BlastGARD fragment retention film could have prevented some of the flying glass in the aftermath of the explosions.
As Frankel explains, "Many of the injuries sustained in the Boston marathon attack stemmed from the flying, razor-sharp shards which were catapulted at lightning speeds." He says building owners and facilities managers can minimize the risk of bodily injury and property damage in a blast by installing BlastGARD - a clear, glass protection film.
In the event of a major explosion BlastGARD helps to hold the glass fragments together, preventing flying shards of glass from becoming deadly weapons. It also absorbs shock waves by dispersing the impact, keeping glass windows and doors intact. The ultra-durable polyester material adheres to the glass, acting like an invisible coat of armor and making the glass virtually impenetrable to small ballistic attacks.
BlastGARD,a fragment retention film, was originally developed for the U.S. military as a defense against deadly flying glass due to an explosion or deliberate attack. But in light of recent events, the company Global Security Experts is offering BlastGARD to the private sector.
"For decades, terrorists and extremist groups have known that explosive devices and unprotected glass form a lethal combination," says Frankel. "Unprotected glass presents an inviting target for terrorists looking to inflict maximum damage both in the immediate impact zone and the surrounding area."
BlastGARD has some immediate benefits, as well. The film is distortion-free and filters up to 98% of harmful UV radiation, protecting building interiors and sensitive equipment. Tinted versions of the film can reduce glare and heat infiltration by up to 70%. BlastGARD is also extremely scratch resistant and will not yellow or distort over time.
Frankel is available for interviews as an expert in the field of blast protection and glass mitigation. He also offers his services to homeowners and business owners who need help with security inspections, training seminars, and certified "safe rooms".
About Global Security Experts:
For nearly two decades, the professionals at Global Security Experts have been providing affordable, customized home security solutions for the everyday citizen. The company offers the latest state-of-the-art security devices and physical deterrents to home invasion, as well as on-site training to families, businesses and individuals worldwide. Owner Jordan Frankel, known as the Security Sensei, is a highly-trusted authority in the field of residential security. To find out what Global Security Experts can do for you, visit http://www.globalsecurityexperts.com.