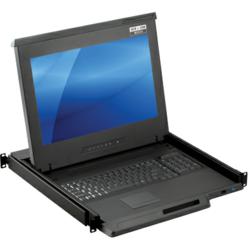 Chino, California (PRWEB) April 22, 2013
Acnodes Corp. today introduces the new rackmount LCD KVM console, KDX81712. Only 1U high and 22.9" deep, KDX81712 fit into a standard 19" rack-mountable pull-out drawer. This new rackmount drawer comes with a 17 inch 1920 x 1200 high resolution LCD monitor and equips with a standard 104-key keyboard includes 12 function keys along with a touchpad pointing device with two mouse buttons. Keyboard offers multilanguage support, including English, German, French, Spanish, Chinese, Japanese, Korean and etc. Standard keyboard can be upgraded to MAC keyboard or SUN keyboard depending on application. Touchpad can also be upgraded to a 3-button trackball.
A 12-port DVI KVM switch is integrated to the keyboard drawer that allows users to monitor and access multiple computers from a single console. Featuring its 12 KVM pushbuttons with LEDs, preprogrammed hotkeys and on-screen display menu, KDX81712 makes server management quick and easy. To ensure system security, an eight-character password protection is supported to limit the access to all computers only to assigned person(s).
Additional information on Acnodes' KDX81712 can be found at http://www.acnodes.com/kdx81712.htm
More rackmount monitor keyboard drawer products may be found at Acnodes' monitor keyboard drawer product page.
Our product line configurations are illustrated on our web site at Acnodes.com. However, most of the rackmount and industrial monitors are custom built to customers' exact requirements. Contact us via e-mail: info(at)acnodes(dot)com or telephone (1-909-597-7588) for more information.
Acnodes manufactures, designs, and markets industrial computers and display solutions for diverse industries ranging from automation to military. We have an array of technological innovations in the area of rack mount servers, embedded computers, Panel PC's and rugged monitors that create simpler and more valuable products to the customers. We work closely with our clients to customize computer products to meet their required projects and challenges. Acnodes strives to explore new technologies to better improve life and work.
Company Information:
Name: Acnodes Corporation
Address: 14628 Central Ave.
City: Chino
State: CA
Zip: 91710
Country: US
Phone: 909.597.7588
Fax: 909.597.1939
http://www.acnodes.com