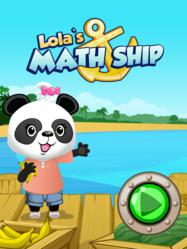 (PRWEB) April 19, 2013
Today, BeiZ has announced the release of their newest app, Lola's Math Ship for iOS (iPhone & iPad)-- yet another educational game from game publisher Beiz, which is from Finland, the country of Pisa Achievers
Lola's Math Ship combines a fun mobile game with arithmetic challenges presented in advancing difficulty levels, which are customized to the child's learning pace. It begins with simple number games, and graduates to more challenging tasks when the child is ready.
There are a wide variety of game fields for children to explore; fun rewards motivate them to continue to the next difficulty level, and to learn even more! The easy level is great for preschoolers, and the difficult level provides enough challenge even for children over 8
"I am happy to release our newest game that combines exciting gaming with learning arithmetic and other analytical skills, all in an entertaining package" says CEO Mika Heikinheimo.
Key Features of the game:
•Educational game: Teaching math to children ages 4-8
•Advancing difficulty customized to the child's learning pace
•Twelve mini-games in each level – altogether 36 fields to explore
•Voice Over feature: Spoken and easy to understand instructions
•Number of spoken languages: 6
•Child friendly usage experience: No in-app purchases or third party advertising
BeiZ is a game studio that concentrates on providing enjoyable educational solutions and non-violent games for children. BeiZ also assists its partners in publishing their games and mobile content. BeiZ has headquarters in Finland and operations also in China. Copyright (C) 2013 BeiZ Ltd. All Rights Reserved.